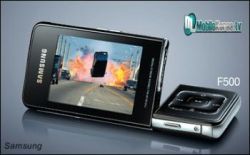 The Samsung announced its new range of mobile phones F500/F300 ultra phones. These are not the run in the mill phones from Samsung but have got video and music capabilities.
The F500 gives you 2GB of space and has got a 2 megapixel camera.
The phone also supports Bluetooth and supports DivX codec video files and also MPEG4, H.264, WMV and AVI files.
With these capabilities it looks more like a PMP than a phone.


The F300 is a phone on one side and a portable music player on the other. It has 5 way navigation keypad on the front and all the number on the other side.
There are two screens in the phone the bigger one when playing music and the phone supports MP3, AAC, AAC+ and WMA files. It also has FM tuner and a camera
Check out the both sides of F300 in detail.
Via: Mobilementalism