Samsung, the world's largest electronics company worldwide, has announced that it has been able to develop the world's first adaptive array transceiver technology which operates in the millimeter-wave Ka bands designed primarily for cellular telecommunications. The highly successful South Korean company has also established that this new technology will form the foundation for the evolution of 5G mobile communications systems. With 5G networks, data transmission speeds will be boosted and this will be almost several hundred times faster than the currently upcoming 4G network.
According to Samsung, it hopes that it would be able to roll out the 5G technology around 2020 so that subscribers could enjoy immensely high Gbps speeds while on the move. It is expected that speeds up to several tens of Gbps per base station will be made available with this new technology.
Up to today, there have not been any standardization efforts towards 5G technology. In fact, even the 4G network has not taken off completely worldwide yet. In many countries around the world, the equipment, which supports 4G technology, has still not been deployed. The successful implementation of a 5G cellular network would need a broad band of frequencies. According to common belief, the millimeter-wave bands consist of limitations in the transmission of data spanning long distances owing to unfavourable propagation characteristics. The breakthrough in the development of adaptive array transceiver technology means that once 5G is well and working, it would help overcome the limitations in transmitting large volumes of data ranging long distances making use of broad bands of frequencies.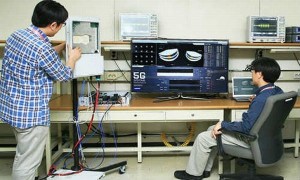 Samsung is determined to continue being engaged in research and development so that these technologies can be accelerated and commercialized by 2020. Samsung is expected to spend considerable amount of time and effort into 5G cellular communications around the world. The company is confident that these efforts would be able to trigger the creation of international alliances as well as the commercialization of related mobile broadband services.
So, if you are still worried about your 4G phone requiring repair and searching for cell phone repair Vancouver, you can continue with your repaired cell phone until you have a brand new 5G Samsung gadget in your hands.
Once this technology is commercialized, the 5G mobile technology would more than definitely allow users to transmit huge data files, like high-quality videos or movies with absolute ease and peace of mind that the network would be stable. The European Union had announced earlier in 2013 that it plans to invest €50 million, or even $65 million to help research into the development and successful deployment of 5G mobile technology by 2020. It is also hoped that these funds would enable the setup of a 5G center, which would help stimulate expansion in U.K. telecommunications research and development, innovation as well as the provision of broadband mobile Internet services. If successful, 5G technology will definitely make mobile networking seamless.