Samsung Tec Tile is a new generation smartphone app which provides you with the facility of reading and writing Tec Tile NFC Tags. Using the Tec Tile app, you can create your own Tec Tile which will then allow you to automatically change a number of programs in your phone. By using a Tec Tile, you can automatically send text messages, make phone calls, launch applications, update your social media status, check-in to different places and even change your existing phone settings. After creating your own Tec Tile, all you need to do is place the Tile in an easy-to-reach or convenient place so that you can easily tap your phone upon the Tile to perform various tasks stored inside the Tec Tile.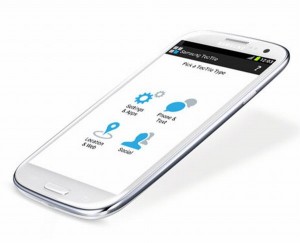 In order to have your own Tec Tile, you can buy it at the official site of Samsung Tec Tile. This app is specifically designed to run on Samsung Android Smartphones, which comply with the MIFARE technology. Tec Tile also runs easily on Samsung Galaxy S III and can run on other MIFARE compliant smartphones with NFC enabled Android technology. However, Samsung does not take responsibility regarding the compatibility and functionality with other brand devices.
Writing your own Tec Tile tag
In order to write your own Tec Tile tag, you need to choose the type and function of tag you want and tap the next option. When your app is ready to write your tag, all you need to do is tap the Tec Tile tag on the back of your phone and hold it until your tag is done with writing. This process takes only a few seconds. After writing a tag, you can read it anytime you hold the Tec Tile on the back of your phone without even using the Tac Tile app.
Where Tec Tiles do not work
If placed near metal surfaces, your Tec Tile may stop working; so take notice of your surroundings while using a Tec Tile app. However, when purchased, Tec Tile always comes in a metallic protective sleeve. You will have to remove the metallic sleeve in order to start reading or programming the app. Moreover, before using the app, make sure that you have NFC technology enabled phone and it must remain turned on beforehand. However, Tec Tiles can work with all the built-in browsers present in your phone. In some rare cases, especially in the event of the installation of a new browser in your phone, you may experience some slight interruption while scanning your Tec Tile.