iOS and Google Android have dominated mobile operating system market, followed by Microsoft Windows and Blackberry 10 OS. However, despite dominated by a few mega players, the mobile operating system market always has room for newcomers who promise to bring in innovative technologies and programs. Accordingly, in an attempt to taste the waters flowing in the smartphone market and to present consumers with a new and different product, the Finland based company Jolla has announced the introduction of a new smartphone that runs on its own Sailfish mobile operating system and expects to go on sale very soon.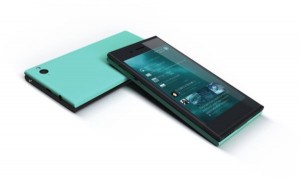 The announcement of this new smartphone by a relatively new company from Finland, which also is the homeland of the cellphone giant Nokia, has sparked many speculations from market experts all around the world. Sailfish flaunts a 4.5-inch display, an 8MP camera, an internal memory of 16GB, a dual-core processor, a microSD slot and a 4G LTE connectivity for superfast internet connection. According to the information provided by Jolla, the handset will run Android apps. However, they have not provided any details regarding the number of apps it would support or from where the apps can be downloaded. Basically, the Sailfish operating system of Jolla is the reworked version of the presently defunct Nokia's Meego OS with many new improvements.
Priced at 399 Euros, the device will be initially launched in a selected few European countries but gradually its availability will expand to other places across the globe. The company has not set any release date yet. According to Jolla's recent press release, the shipment of the device is likely to start by the end of 2013. On the other hand, considering anticipated release of phones that run on Intel's Tizen and Samsung's OS along with the new release of Ubuntu-based phone and Firefox OS, the smartphone from Jolla is likely to face tough competition in the market.
However, if you are too interested in purchasing a completely new smartphone with a new kind of OS, then you can preorder the device now so that you could be the first owner of a new brand smartphone in your town shortly after its release.