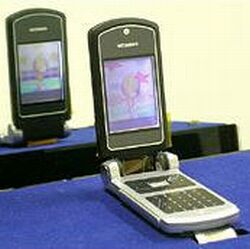 Samsung Electronics has created its first LCD panel, which will create independent images on each side of mobile LCD display.
The new double-sided LCD will show two entirely different pictures or sets of visual data simultaneously on the front end and back end of the same screen of mobile phone. The new LCD will replace the old display and reducing overall thickness of mobile products by at least 1 mm.
Samsung's new LCD has features like double-gate and thin-film transistor (TFT) architecture. TFT gates are electronic components, which convert the necessary voltage at the pixel level, which controls the liquid crystal alignment needed to reproduce on-screen images. Samsung's new LCD has two gates, which operates on each pixel, instead of one, so, it display the same image on back-end as it display of front-end screen. Samsung has used its proprietary Amorphous Silicon Gate (ASG) technology, which accommodates the increased number of TFT gates without increasing the size of the driver integrated circuits.
Now Samsung mobile phones need only one backlight. One side of the panel operates in a transmissive mode, while other operates in a reflective mode.
Via: Cellular News