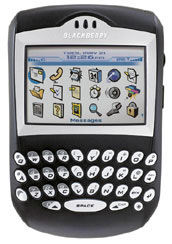 Soon the PTT OR Push-to-talk will be available on RIM's hugely popular sets Blackberry Pearl as RIM has just signed a deal with the Kodiak Networks a wireless networking specialists.
With this the Cingular wireless will become the first operator to support PTT. Nextel was the first operator to offer this service but Kodiak says it will improve on the service provided by the latter.
Like for example Kodiak will allow users to switch from PTT call to a regular call and by switch over function that conversation can be heard by all who are on PTT.
Kodiak says their PTT will also allow the user to control their availability and also to check the availability of others. It will also offer call waiting option for both regular and PTT calls.
Via: Ecoustics-cnet