Samsung has announced a new game controller for your Smartphone. This Samsung Gamepad is companionable with all Android phones running Android 4.1 Jelly Bean and above, it is specially optimized for Android 4.3 Jelly Bean and above. It is featured with an eight way D- Pad, two analogue sticks, two trigger buttons, four action buttons, a select button and a play button. Samsung App Store is linked through play button to optimize selling console games at reasonable prices. The Samsung Gamepad also featured with 3.0 Bluetooth and also can be paired via NFC and you can even cast gaming on big screen by using Samsung Allshares.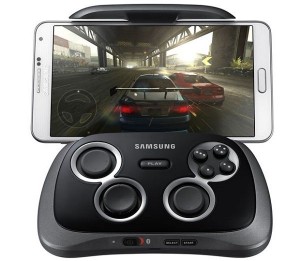 There are a number of Chinese imports available in the market, but this is the first time in the history of gadgets that this type of major player has brought an Android game controller to the table. Samsung is the leading company in the field of gadgets and they said that 35 games are already available through the play button at the launch with more to come in 2014. Launch titles include – Most Wanted, Asphalt 8, Modern Combat 4, Virtua Tennis Challenge and prince of Persia; these are in addition to existing games from Google Play.
Samsung has launched this Gamepad as an alternative to buying more expensive console such as an Playstation 4 (PSP) or Xbox One, we are not sure if it can match them, but we can certainly see the advantages of a device like this. If you want to buy this device then this device is already available for pre-order at Expansys for just $147.98. It is a device with a steel case, launching dates is not clear, but it could be one to watch in 2014.