Logitech has launched mobility accessories for iPad Air and iPad Mini; it includes Ultrathin Keyboard Cover, Ultrathin Keyboard Folio and a Folio Protective case for iPad Air and iPad Mini. iPad Mini with Retina display and iPad Air which was globally launched in October are now available online in India.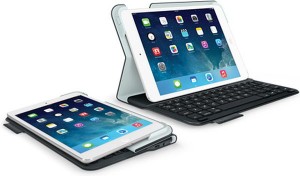 The Ultrathin Keyboard Folio by Logitech for iPad Mini comes with a Bluetooth keyboard. It has short keys for iOS and has a price tag of ₹ 5,759 and the Logitech Folio Protective Case can be of ₹ 2,495. This Logitech Ultrathin Keyboard Cover fir iPad Air offers an aluminum screen cover for extra protection and it can also be used as wireless keyboard. You can even attach the cover without iPad through a magnetic clip and the built-in Bluetooth keyboard has iOS shortcut keys such as cut copy and paste.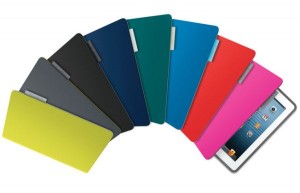 This Ultrathin Keyboard Folio for iPad Air is designed for a thin and light typing experience and to protect its front and back. You can easily type on this keyboard because it has the same sized keys as on any traditional keyboard. It has a water-repellent skin for both side to protect it against bumps and scratches. The starting price of iPads with Retina display is just ₹ 35,900 and ₹28900 respectively with 16GB and Wi-Fi models on authorized Apple retailers across India.
It sports 9.7" retina display, 3.1 million pixels camera; the 32GB, 64GB and 128GB with Wi-Fi iPad for just ₹ 42,900, ₹ 49,900, and ₹ 56,900 respectively. iPad Air with 16GB storage and cellular connectivity  is available at ₹ 44,900 and the 32GB ,64GB and 128GB models for just  ₹ 51,900, ₹ 58,900 and ₹ 65,900 respectively.