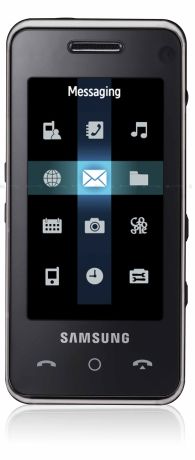 Mobile phones are fast assuming the roles of the computer on the move especially the new touch screen technology has literally brought web surfing to your fingertip. Samsung has brought a new model – F490 that incorporates all the available latest technology that could possibly incorporate into any mobile phone.
The 3.2-inch 16:9 wide full touch LCD screen with Bluetooth will make internet browsing on F490 enjoyable. Also incorporated into the mobile phone is Google Search and NetFront 3.4 browser. This is a multitasking mobile with 5 Megapixel Camera and video recording and video playback system. Its HSDPA network will fasten up the pace of audio, video and file downloads at a speed of around 3.6Mbps.
The only bad news is that not every market can display this wonderful model from Samsung for it will be available in only some European countries.
Source & image:akihabara news