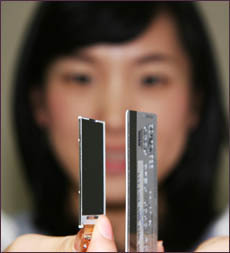 Samsung has broken its own record of the slimmest LCD developed for cellphones.
Earlier the company had developed a LCD that was just 0.82mm-thick, but the latest from the company is a mere 0.74mm-thick.
This means that the company will soon make cellphones even slimmer.
As a reference Samsung's Ultra Edition phones that will be released this spring will have a monstrous 1.9mm-thick LCD screen.
Via: Gizmodo