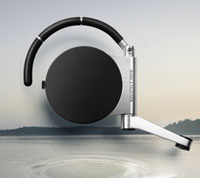 The Bang & Olufsen, Earset 2 has been in news for quite some time now and finally it seems that the gadget has got an approval from the FCC.
This means that we will finally be able to see the Bluetooth headset in shelves pretty soon.
The system incorporates apparent combination of bone induction and microphone pickup.
There is no news on the price and the availability of the device but according to me it should soon reach the stands.
Via: engadget