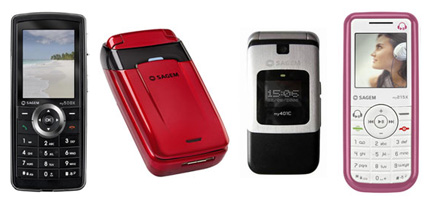 Sagem might not be the company churning out world class mobile device and having a global reach but never the less they are present in EU and doing good business.
Sagem just to spice up its offerings has launched four sets that are decent when compared to others available in that category and further more the best thing about them is that they are cheap.
Let's start with my501x offering; it has a modest 1.3-megapixel camera with MP3 player, video player and Bluetooth as its features. Will cost you just £59 .
The other set in the candy bar category will be my215x with just music player as its features and a price tag of £35 . Boy!!! That's cheap.
Then there are two handsets in clamshell category: my202C and my410C
The latter will be sold for £49.99 with features like Bluetooth, WAP and MP3 player and off course it has a camera but its VGA. It will be available in pink, silver and black colors.
While the my201C is available in cute Ferrari red coloring and that's all it is folks no MP3 or camera but WAP has been added but what more can you get at the boot price of £29.99 .
Via: Shinyshiny