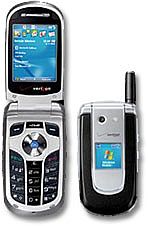 Until now, I hadn't seen any clamshell smartphone with decent looks but the new Pantech PN-820 is a flip phone, a smartphone, and appealing too. Not that much but still you won't find it odd to use it in a public place. It's the Verizon Wireless' first Windows Mobile based folder style smartphone for its BroadbandAccess EV-DO network.
The consumer oriented smartphone boasts Windows Mobile 5.0 features including full PIM support and mobile web browsing, a 2.2-inch internal color LCD, 1.07-inch LCD color external display, miniSD memory card slot, Bluetooth, and battery offering 200 minutes of talk time. It also incorporates speakerphone and voice command functionality.
Verizon Wireless is offering the Pantech PN-820 for $149.99 after a $100 online rebate with a two-year service agreement.
Via: Mobileburn