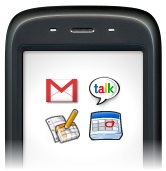 There is some sort of a break in iPhone rumors after a one-liner from Gizmodo (today is Monday by the way) here comes another speculation/ rumor/ unconfirmed reports/ imaginative minds at work. You can call the story any one of these but the expert observers are saying that something is cooking in Google's home.
The story goes like this that the Google is planning to take a plunge in the cellphone industry by launching its own mobile phone and the partners in crime have been identified as Orange and HTC.
The device is said to enhance the web surfing experience but Orange and Google have refused to comment on this issue there by killing the credibility of news.
The phone will be a boon for Orange as the company has vital interests in 3G networks, broadband and telecom sector. Having Google as its riding partner the Orange can easily take on the competition.
Google has been pretty aggressive in the past few months about its mobile ambitions and presence of Andy Robins, founder of Danger a company that manufactures sidekick devices is also fueling that Google might be working on a mobile OS.
In the end I am hoping at least one of the (iPhone / Google phone) rumor to come true as I am getting pretty bored of all the rumors in the mobile industry.
Via: GigaOm