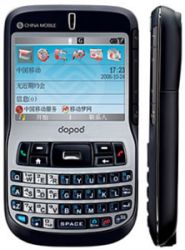 China can make iPhone (truly pathetic copy) and so they can copy BlackBerry sets and rename them as Dopod C720 and Dopod 858 PDA phones.
These Windows Mobile OS based phones have full QWERTY keypad and also have features like Bluetooth, 3D surround sound output, Windows Media Player and mobile internet explorer.
The phone flaunt 2.4-inch 320 x 240 TFT screen and C720 has a 1.3 megapixel digital camera while 858 will have a 2-megapixel one.
These phones are not available in US at present but the looks and designs must have send daggers through the RIM's heart. Are we going to see another lawsuit filed for trademark infringement?
Via: Handcellphone