Turkish industrial designer Cagatay Afsar has come up with an exciting cellphone concept that takes its inspiration from the all-famous Rolls Royce breed of cars. Dubbed as Rolls Royce Idolon, the concept cellphone is an expression of what the brand Rolls Royce means to the designer. Having researched about Rolls Royce history, the designer finds simplicity to be the hardest principle that the car manufacturer follows. Consequently, detailed artistry and thoroughness became the essential elements that went into the derivation of Rolls Royce concept cellphone.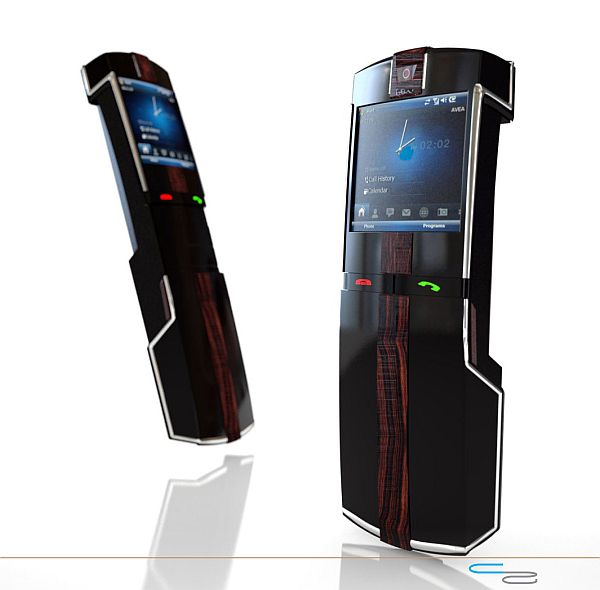 As Rolls Royce's design philosophy relies so strongly on art, endeavor and quality, the designer also considers these as the most basic values of any design. According to designer:
Phone has the same materials as Rolls Royce' s cars have. Best wood collections, special leathers from special farms, high quality and polished metals, the newest technology… Anyone who wants to live in high quality life standards must have one of this (the concept phone).
The phone will feature sliding cover above buttons. Why not touch screen, because anyone who loves Rolls Royce also cares for the overall exterior of the auto. When you put it on a table, it has to look like a whole part.
On Idolon, use of material is very important. At middle line, red wedge wood emphasizes Rolls Royce' s difference while merging different materials on a cellphone. Wood gives phone dignity. Around Idolon's sides, a line shows up to our eyes. This chrome line makes it dynamic looking. Also, it has leather handles on the sides of sliding cover. The combination of different materials gives an advantage to gripping on our fingers when sliding. It has 2 cameras placed on front and back. Also it has different color and material combinations for different tastes. Purpose is clear " Be different"
The concept cellphone should attract Rolls Royce fans. What do you say?
[Thanks, Cagatay Afsar]