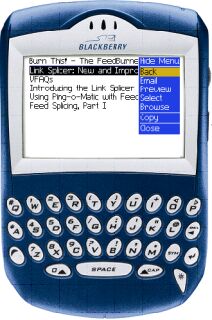 Known for its smartphones and BlackBerry, Research in Motion has released a BlackBerry software package, which is specifically designed for business with up to 30 wireless users. The package called BlackBerry Professional Software can serve a server before installation and suggest a configuration.
The BlackBerry Professional Software will help businesses with up to 30 users to get the same core wireless e-mail and related functions from the BlackBerry Enterprise Server that larger companies and government organizations now get. On the administration side, the software has a manager interface, which can be used to add or delete users and define policies.
Users can install the BlackBerry Professional Software on the same server as a company's e-mail applications like Microsoft's Exchange or IBM's Lotus Domino server. The Professional Software, is available worldwide with the cost-price of US$499 for five users or $849 for 10 users.
In an another announcement, New York based CA Inc. announced CA Mobile Device Management software will manage BlackBerry smart phones. The new software is available for $65 per device.
Image: Feed Burner