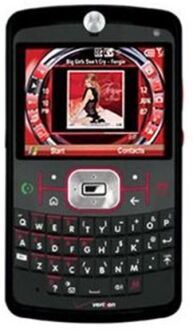 With the launch of the Motorola Q9m, AT&T has become the first GSM carrier to offer a model from Motorola's Q series of Windows Mobile smartphones. The Motorola's new Q9m is equipped with popular features like 3G, a keyboard and a GPS receiver.
The Motorola Q9m is very similar to the Q9h, Verizon's upgrade to the original Q model. Like all previous Qs, the Q9m sports a BlackBerry-like tablet shape with a 40 x 320 pixel (QVGA) resolution display on top and a QWERTY thumb-keyboard on the bottom. The new Motorola's Q9m supports AT&T's UTMS/HSDPA 3G network for data transfers up to 3.6Mbps, but only slower 2.5G EDGE technology outside this country.

As a Windows Mobile 6 Standard-run smartphone, the Q9m is not touch-screen phone. It offers more advanced mobile office features than Microsoft through the bundling of DataViz's Documents to Go. The phone allows users to view e-mail messages in their original rich HTML format with live links to Web and Microsoft Office SharePoint sites. It means that mobile users can view text and images as they can view on a Windows PC. In addition it also includes other features:
1. An integrated GPS to support location-based service
2. 2.0-megapixel camera for picture and video
3. MicroSD slot to expand the Q9h's internal memory
The Motorola's Q9m also supports for Good Mobile Messaging 5 and Microsoft's Direct Push Technology for BlackBerry-like push e-mail delivery and automatic synchronization of Outlook calendars, tasks and contacts in an Exchange environment. The Q9m comes with pre-loaded with AT&T Mobile Music, AT&T's CV video, and MobiTV services, all through AT&T's MEdia Net platform.
AT&T will sell the Q9m for $200 with unlimited data plans, which include corporate e-mail and personal data plans, which include personal e-mail begin at $29.99 a month for 20MB of data.
Image: Gizmodo