The challenge
Each day, a new mobile phone is being launched by companies in the market. New models with innovative technology help companies in marketing their products in a better way. Recently, HTC has launched its new smartphone under the name Titan. Similarly, we have Nokia Lumia 800. This is also a smartphone. Both have a variety of features that may attract customers. One boasts of a good exterior while the other has striking features. Customers are often confused what to buy. This article will help in making a small but meaningful comparison between the two smartphones.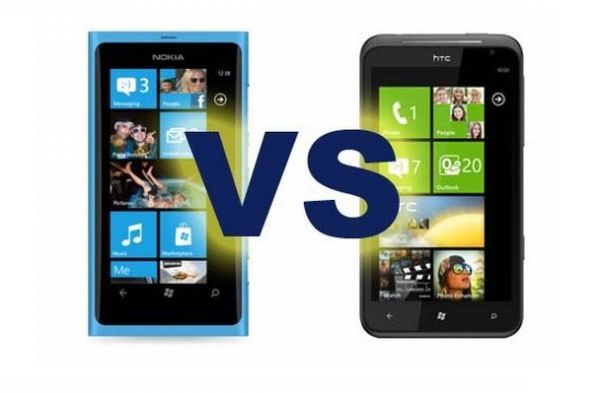 1. Screen Size
HTC Titan has 131.5*70.7*9.9 mm dimensions while Nokia Lumia 800 is available at 116.5*61.2*12.1 mm. Lumia 800 by Nokia has AMOLED capacitive touch screen that has a plastic layer. It also consumes lesser power as compared to the other phones in this category. On the other hand, HTC Titan has a simpler SLCD capacitive touch screen. Nokia Lumia 800 has a screen size of 3.7 inches AMOLED clear black, while HTC Titan has a 4.7 inch LCD.
Winner: Going by the above comparison, one could say that Nokia Lumia 800 is a clear cut winner with a higher resolution. It has clearer texts, graphics and shows very high quality images. HTC Titan has a bigger screen size, but the Lumia offers better resolution.
2. Software
Both Nokia Lumia 800 and HTC Titan have the same Operating System. They are based upon Microsoft Windows Phone 7.5 Mango. But yes, the HTC Titan is driven by a 1.5 GHz Scorpion processor which outperforms Nokia Lumia's 1.4 GHz Scorpion processor. This means HTC Titan has a better processing speed.
Winner: HTC Titan is the winner here. It has a better processor which speeds up operations of applications on this phone. If you are fond of playing games and running heavy applications on your mobile phone, then HTC Titan is a better choice.
3. Price
Both these phones are little bit expensive. But going by their features, the cost is justified. Nokia Lumia 800 is available at $570. On the other side, HTC is offering its all new Titan smart phone at around $690. Though price should not be the only factor, it is still something to be taken into consideration. HTC is a little bit costlier but it has dual camera and a better processor.
Winner: Price conscious people may think Nokia is a better option even though both phones are available within a range of $600.
4. Camera
Both phones have the same 8MP high quality camera. These phones are available with LED flash light and an awesome resolution. LED flash helps you in taking better snaps in low light conditions. These smart phones are very good for indoor shooting.
Though there is one difference. HTC Titan has a front camera too. This is a small 1.3 MP camera which is very good for video calling purposes. Nokia Lumia 800 lacks any such front camera. This is a big limiting factor that Nokia should have worked on. A smart phone worth $600 without a front camera is a waste I am sure, no one will like this thing..
Winner: HTC Titan is the winner here. Though both phones have the same 8MP camera, still HTC Titan wins the race with its 1.3MP front camera. Nokia could have worked on the front camera in their Lumia 800 smart phone.
5. Target Audience
Nokia Lumia 800 has a better screen size and is available at much lower price. Price conscious people can go for this phone. On the other side, HTC Titan has dual camera and a high power processor. If you are willing to spend another $100, then the HTC Titan is a better option. It is also available on AT&T with a 2 year contract at just $199.
The verdict
Winner
HTC Titan is a sure shot winner in this race between two high quality latest smart phones. Both have their own plus points and limitations. Though Nokia has worked on a better screen resolution in their smart phone Lumia 800, it should have worked a little bit on developing its front camera too. This is a big limitation and without a front camera, 3G or video calling does not make much sense. If you are still in two minds on choosing between the Nokia Lumia 800 and HTC Titan, I would recommend the HTC Titan. It may be slightly costlier, but going by the features, this phone completely justifies its worth.