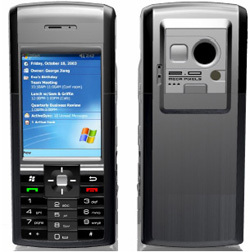 izenMobile will be launching there two variants of smartphones. Come again who is izenMobile well it's an upcoming San Diego company that will be coming to CES with two smartphones KRMA and KSMT.
The KRMA is a Windows Mobile 5.0 based phone with quad-band compatibility; although it has just number keypad but it can also be operated through its 2.2-inch touch screen through fingers and stylus. The phone will be compatible to EDGE Bluetooth and Wi-Fi.
KSMT is also a WM5.0 smartphone with 39-button keypad and supports E-mail and SMS capabilities.
These phones have a Samsung SC3 2442 (400MHz) CPU with 128MB ROM and 64MB SDRAM.
But the icing on the cake comes with the next feature with both model comes free 25GB online space for one or more users and this can be used in any way that you want.
This phone will mainly target small business firms.
Via: Electronista