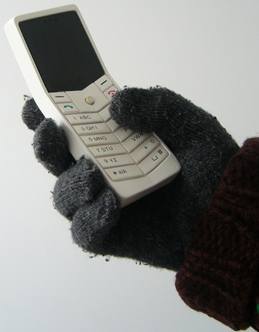 So what the census of people on poles registers a really low count. This doesn't mean they should remain aloof from modern communication facilities epitomized by mobile phones. Enter Yuta Watanabe. His concept phone for sub-zero temperatures is aimed at addressing the most common problem that the guys living in cold areas face.
And that of course is how to dial buttons with big fur gloves on? For that you need really big keys. The polar phone concept accomplishes exactly that. The keys on this bulky baby are relatively big and set vertically to make it easier to press them. And as far as the boomerang shape is concerned, I'm not too sure about that. I guess it is to shovel real tiny masses of snow.
There are phones available in the market aimed at aged consumers, and these boast of big buttons. That kept in mind; I have my doubts if a mobile manufacturer will take up this concept commercially. Or maybe a company will if Eskimos lobby real hard.
Via: Gizmodo