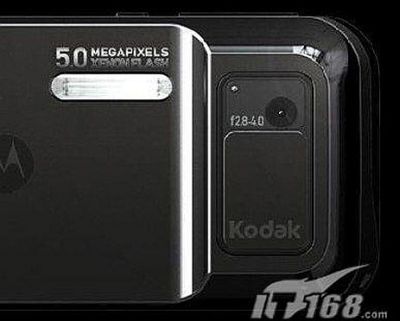 Motorola will do anything to gain some semblance of share on the highly competitive mobile phone market. So whether it is combining with a car maker or as this time around with Kodak, its calendar for '08 looks to be jam packed already.
Pasted all over the net are the images of Motorola and Kodak collaborative cell phone. Now you know when a specialist is called into action, he'll deliver results. So enter Kodak and the phone immediately acquires a high-end camera. That is what we would call a five megapixel camera, right?
Since the phone is supposed to succeed Moto Z10 that boasted of a 3.2 megapixel camera (only, huh!), so this one will probably be tagged Motorola Z12 and branded as a part of the ZiNE series.

Now the pic is a leaked one so there are some issues in completely relying on it. However, it is in all probability the real deal. So what do you think of the tiny hole for the lens? Dunno if all the megapixels will compensate for what would be crammed into that tiny hole. That apart, the Xenon flash might be worth noting. The pic also reveals a slider design. Now that's a bit surprising since the leaked info about the phone a couple of months back claimed that the phone will have a slicker shape.
If you aren't a big fan of the number of pixels on a cell phone, you do have the Wi-Fi connectivity and a GPS chip to look forward to.
It is more than obvious now that the American mobile maker is facing a steep battle next year. It is making some serious strategies to challenge the supremacy of the likes of Nokia in 2008. Think these will work out? I, for one, have my doubts.