he new Nokia X2-02 is the latest addition to the Nokia's dual-SIM collection and the third phone in its X2 series. Nokia has already captured a substantial share of the dual-SIM phone market through its earlier offerings, and the latest X2-02 just promises to further increase Nokia's share in the pie. It is a basic phone with a rudimentary camera and no 3G connectivity. But, the phone stands out from the bunch with its single killer feature− its audio capabilities. From inbuilt FM transmitter, support to multiple audio formats and radio recording this phone has everything that an audiophile can ask for a price of just Rs. 3,599.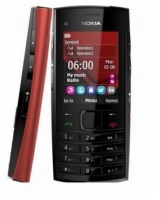 Performance
The new X2-02 has several connectivity options like GPRS, EDGE, Bluetooth, and micro USB but has no support for 3G. It has a front facing 2 MP camera, with a resolution of 1600×1200 pixels and digital zoom. The camera can capture videos at 15 fps. But, there is no flash available for the camera to take images during night. The phone has a Li-Ion battery with a capacity of 1020 mAh (BL-5C). The phone's battery gives a talk time of up to 10 hours and a standby time of up to 443 hours making it ideal for heavy multimedia use. As the phone has an 800 MHz processor, it can handle both multimedia and internet applications efficiently.
The music-playing capability is the key feature that differentiates X2-02 from other dual-SIM entry level phones. The phone supports multiple audio formats like MP3, WMA, WAV and eAAC+. The tracks stored on the phone's memory can be filtered by artist, album and genre. It can also support multiple video formats like MP4, H.264, H.263 and 3GP. But, watching lengthy videos on such a small screen can be irritating. The X2-02 can store settings for up to 5 SIM cards so that the phone gives information regarding the SIM currently in use at a single glance.
Features
The new X2-02 runs on Nokia's Symbian S40 OS. This is in line with Nokia's promise of bringing entry level smartphones to millions of customers around the world through its now side-lined Symbian platform. S40 supports lots of popular Java apps like Facebook and Twitter. It is also possible to download and play several games with the S40 OS. The X2-02 is powered by a Qualcomm 800 MHz processor which makes the device very fast. It has an inbuilt 10 MB memory for storing contacts, 64 MB ROM and 32 MB RAM. The memory of the phone can be extended up to 32 GB using a micro SD card for storing multimedia content. The messaging features of the phone are SMS, MMS, flash and audio messages. It also has Nokia Messaging service (which offers Email and IM). X2-02 has the Nokia browser which comes with all Symbian devices for browsing the internet. Users can also install other browsers like Opera Mini if they desire so. It has a very good radio with FM transmitter and radio recording. The FM transmitter makes it possible to listen to radio broadcasts without connecting the phone to a headphone. It has support for Java and the users can play Java games like Diamond Rush, Bounce Tales and City Bloxx. The phone is available in five vivid colors (Black with Bright Red, Dark Silver, Orange, Ocean Blue, and Violet) giving a wide choice to the young customers.
Design
The phone has a candy bar design with dimensions: 113 x 50 x 15 mm. The phone is very thin and light, weighing just 71 grams. The X2-02 has a 2.2 inch TFT LCD display. The display resolution of the screen is 240×320 pixels which translate into a pixel density of 182 ppi (pixel per inch). The display offers good sunlight legibility due to its brightness. Another, major upgrade that the X2-02 got over X2-01 is its alphanumeric keypad. The keys of the phone are properly shaped and easy to press. The left side of the phone has music control keys and a hot-swappable micro SD slot. While the right side of phone features volume controls and the SIM slot. 3.5mm audio jack, the standard micro USB port and the 2mm Nokia charger plug are neatly place at the top
Bottomline
The new Nokia X2-02 may be the only dual-SIM phone with very good music-playing skills presently available in the market. Generally, entry level dual-SIM phones have no focus on multimedia features. Good multimedia capabilities coupled with its very low price point makes it an ideal phone for several target segments. Those who opt for this phone should preferably have a separate camera due to its limited photo capturing capabilities. Overall, this is an excellent offering from Nokia for people looking for a feature rich entry level phone and are not bothered with high end features like 3G connectivity.