BlackBerry Pearl Flip 8220 is the first flip handset from Research In Motion. The Canadian mobile maker has been known for its slab-sided handsets with QWERTY keypads. The Pearl Flip 8220, a key member of RIM's Pearl Flip family, also has a QWERTY keypad on its relatively smaller form factor. In fact, the Pearl Flip originally codenamed BlackBerry Kickstart is quite similar to the original Pearl, but it looks quite nice with its inventive design. Users can flip open the gadget to use its primary 2.6-inch display and half QWERTY keypad. On the top lid, there is a secondary 65K TFT display to let users have peeks to the calls, SMS and others. The phone runs on runs BlackBerry OS 4.6.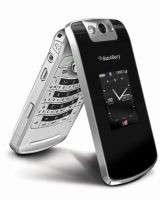 Performance
When it comes to performance, the BlackBerry Pearl Flip is powered by a 312MHz 32-bit Intel XScale PXA272 processor. It provides a nice performance that definitely suits the device's affordable price tag. The Pearl Flip runs on BlackBerry OS 4.6, which is an impressive upgrade in terms of both features and aesthetics. The RIM handset sports 75MB of internal memory and a microSD slot that supports memory sticks up to 8GB capacity. The Li-Ion 900 mAh battery ensures up to 336 hours standby and up to 4 hours talk time for the Pearl Flip.
Features
BlackBerry Pearl Flip 8220 features dual screens. The primary one that users can access after flip-opening the top cover is a 2.6-inch display. It features a resolution of 240 x 320 pixels at 154 ppi and an enhanced interface. On the top cover, the clamshell handset has a tiny 1.2 TFT display with 128 x 160 pixels. Trackball navigation is the major attraction of the Pearl Flip phone. Users can enjoy smooth navigation on the device thanks to the trackball and the QWERTY keypad.
The RIM handset has network connectivity options like GPRS (Class 10, 32-48 kbps), EDGE (Class 10, 236.8 kbps) and Wi-Fi 802.11 b/g. Well, these are enough for users to connect the Pearl Flip with the internet. The handset further highlights Bluetooth 2.0 with A2DP and there is a microUSB 2 port for faster data transfer. Thanks to BlackBerry Internet Service, users can enjoy up to ten personal or official POP3 or IMAP4 mail accounts on this RIM phone.
Indeed, apart from web browsing, the Pearl Flip 8220 is an ideal handset for chatting also. Besides BlackBerry Messenger (BBM), the phone comes preloaded other major IM clients such as AOL, G-Talk, Yahoo Messenger, ICQ and Windows Live. To prevent spelling mistakes while typing briskly for chatting, e-mailing or texting, the RIM handset touts a spell check capability. It is also a decent multimedia phone with support of audio and video formats like MP4, WMV, MP3, eAAC+ and WMA. A 2-megapixel rear camera with 1600 x 1200 pixels and LED flash further make the Pearl Flip a decent handset out in stores.
Design
The RIM BlackBerry Pearl Flip 8220 mostly makes the difference with its flip design. The handset has a 1.2-inch external and 2.6-inch internal display. The small and cute clamshell handset measures in at 101.1 x 50 x 17.5mm and weighs at 102 grams. Well, due to its flip design, the Pearl Flip 8220 is a bit thicker with 17.5mm. Even though, with small dimensions, users can easily carry it around in their pockets or handbags.
Bottomline
The Pearl Flip 8220 handset is certainly a wonderful phone. Thanks to its flip design with dual screens, the BlackBerry phone can largely attract customers. What makes its further attractive is its reasonable price tag that reads US$182.99. Budget customers can pick this device, which really comes with the famous typical BlackBerry QWERTY keypad. For web surfing, checking mails and making instant messaging, this BlackBerry phone is one of best low-cost picks, indeed. The new Blackberry OS 4.6 with a revamped interface and trackpad helps users make better navigation on the affordable handset.