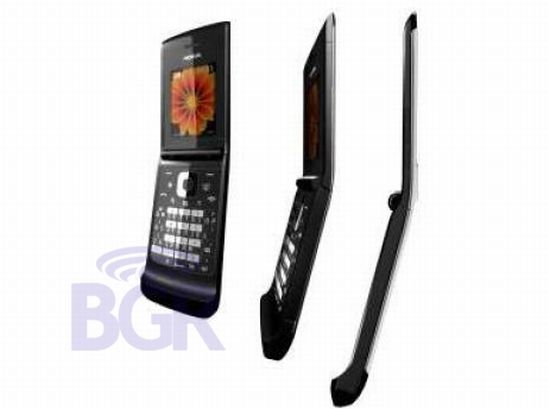 The latest news in the air is of Nokia's upcoming half-QWERTY messaging phone codenamed, Wahoo. The name really looks ludicrous, but it's really good to see Nokia prepping up such a sleek and sexy handset. This new Symbian smartphone strongly shares the look of a BlackBerry Pearl Flip. The quad-band Nokia Wahoo will feature two displays, an internal 2.2″ TFT display with 240 x 320 resolution and an external 1.36″ TFT display with 128 x 160 resolution.
Technical Specifications: Quad-band GSM/GPRS/EDGE, 2.0-megapixel camera with flash, Bluetooth 2.0 with A2DP support, Four hours of UMTS talk time, a 2.5mm headset jack, 80MB of internal memory, microSD card, Push-To-Talk (PTT) button, and a media player.
What others are saying?
Nilay Patel at Engadget says:
No word on a release date, but if you're waiting on pins and needles for a phone with a display that small we really can't help you anyway.
Ilinca at UnwiredView says:
The weirdest thing about this Nokia Wahoo is that is features a semi-QWERTY keyboard which resembles the SureType keypads packed by RIM into its BlackBerry Pearl smartphones.
GSMarena says:
The Wahoo flip is not among the slimmest flip phones, as its dimensions are 100 x 52 x 17 mm and 115 grams weight.
Pricing & Availability: The Nokia Wahoo is coming to AT&T in the US. No word on pricing.
Via: BGR