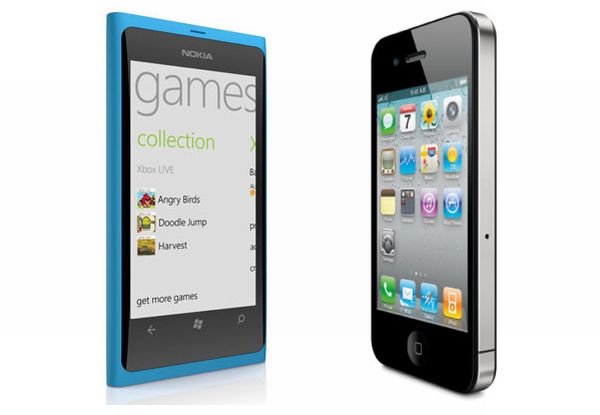 The challenge
We have two dazzling phones for a comparison here; Apple iPhone 4S and Nokia Lumia 800. The first one is the most recent version of Apple's flagship smartphone iPhone. The second one is to become the first Windows Phone-based phone from Nokia that has reached in a deal with Microsoft to build hardware for its Windows platform. Apple iPhone 4S runs on iOS 5, the most advanced version of iOS ever. Apple surfaced the much-awaited iPhone upgrade in the second week of October. Nokia, in the meantime, unveiled Lumia 800 last week following long anticipation for the first WP smartphone from the Finnish mobile maker. Here is a detailed comparison between iPhone 4S and Nokia Lumia 800 under some common parameters.
Comparison attributes
Design and Build
Nokia Lumia 800 and Apple iPhone 4S are with two entirely different body designs. Lumia has a rectangular body design, while iPhone 4S has a rounded shape. As far dimensions and size are concerned, both devices are almost identical. Lumia 800 has the dimensions of 116.5 x 61.2 x 12.1 mm and iPhone 4S features the dimensions of 115.2 x 58.6 x 9.3 mm. The former one weighs at 142 grams and the latter one weighs at just 140 grams.
Winner: Apple iPhone 4S.
Screen
You have a 3.5-inch IPS TFT capacitive touchscreen on iPhone 4S. The high resolution Retina Display offers 640 x 960 pixel resolution at a high 330 ppi. The screen is equipped with scratch-resistant oleophobic and many other recent technologies. Accelerometer sensor, three-axis gyro sensor and proximity sensor are other brilliant features of iPhone 4S'display.
Nokia Lumia 800, on the other hand, features a 3.7-inch AMOLED capacitive touchscreen with a resolution of 480 x 800 pixels at 252 ppi. Nokia ClearBlack display technology, multi-touch input method, proximity sensor, accelerometer and touch-sensitive controls make Lumia display wonderful.
Winner: Apple iPhone 4S. Though having a smaller display, iPhone 4S highlights the featured Retina Display for high resolution.
Processor
Lumia 800 is to mount a 1.4GHz processor. Nokia is yet to reveal more details about Lumia's processor. Apple iPhone 4S is powered by a 1GHz dual-core ARM Cortex-A9 processor with Apple's well-known high-speed A5 chipset.
Winner: Apple iPhone 4S.
Operating System
As everyone knows, Nokia has built Lumia 800 for Windows Phone 7.5 Mango, the latest version of Windows mobile OS. Microsoft uncovered the new version of Windows Phone to compete with iOS 5 and Google Android 4.0 Ice Cream Sandwich. iPhone 4S features iOS 5, which is called the most advanced iOS version ever. With around 200 cutting edge features including Siri voice recognition, iCloud and many others, iOS 5 is an enormous mobile OS the industry has now.
Winner: Apple iPhone 4S.
Camera
Both iPhone 4S and Nokia Lumia 800 sport eight megapixel cameras in the rear panel. Lumia 800's camera has a Carl Zeiss lens and LED flash and it can capture 720p HD video. In contrast, iPhone 4S' camera can capture video at 1080p. This is the major difference between the phones from Nokia and Apple. Moreover, Lumia 800 misses a front-facing camera for video chatting, which is there on iPhone 4S.
Winner: Apple iPhone 4S
Storage
You have 16GB built-in memory on Nokia Lumia 800. Apple iPhone 4S has three memory options; 16GB, 32GB and 64GB. Both devices have cloud storage options, however. Lumia offers Microsoft's SkyDrive for additional storage and iPhone 4S has the much-awaited iCloud cloud service.
Winner: Apple iPhone 4S
Browser Speed
On Nokia Lumia 800, you have Internet Explorer 9, the latest version of Microsoft's famous web browser. In comparison, iPhone 4S comes with a revamped version of Safari preinstalled.
Winner: Nokia Lumia 800. Internet Explorer has more popular appeal than Safari.
Price
Pricing details of Nokia Lumia 800 are just coming up. In the US, for an unlocked Lumia 800, $584 will be the possible price. In U.K, the first Windows Phone smartphone from Nokia is to have a price around £400, reports say. Apple iPhone 4S has more price options. For 16GB model, you have to pay $199, for 32GB $299 and 64GB $399.
Winner: Apple iPhone 4S.
Winner
Apple iPhone 4S wins over Nokia Lumia 800 in all major comparison attributes above. The new version of iPhone with iOS 5 has apparent dominance over its Nokia rival.
The verdict
Nokia Lumia 800 is actually the first Windows Phone-based phone from Nokia. Microsoft has reached in an agreement with Nokia to exclusively build hardware solutions for its WP7.5 platform. The Redmond software giant is in efforts to elevate itself as a significant player in smartphone market. Nokia is the official hardware partner of Microsoft in this mission. Apple iPhone 4S, at the same time, is an heir to the extensively sold-out iPhone 4. The company exactly looks at the customers, who are to upgrade their iPhone 4 with a more advanced one.