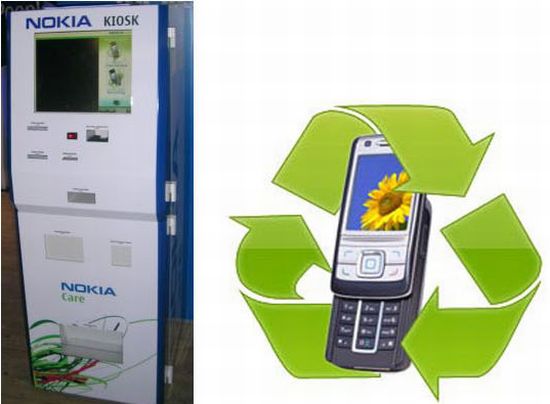 alt="nokiarecyc_kiosk_small_zCblu_7548″ align="right"/>
Nokia it seems is not only satisfied with the tag of the world's leading cell phone producer but it wants to live up to the desires of its consumers by helping them recycle their old Nokia handsets. Integrated Nokia Kiosks will dot several spots in Malaysia to collect recyclable Nokia handsets. Although the 80% of materials in a Nokia handset is recyclable to salvage the metals and plastic but only 3% of these handsets were only sent by their users to the recycling plants. Nokia hopes to make a difference in the recycling statistics with its kiosks. And to make the planet greener Nokia pledges to plant one plant for every handset recycled. Now with the automated kiosks Nokia users will now know the right place to dump their old handsets.
What others are saying? Petaling Jaya writes on topix forum
The automated recycling booths, on trial in Malaysia, are intended to make recycling phones easier.
TheStar online writes
This is the second time Nokia is launching an initiative to recycle handphones in the country. It introduced its The Future Is In Your Hands campaign here in 2002.