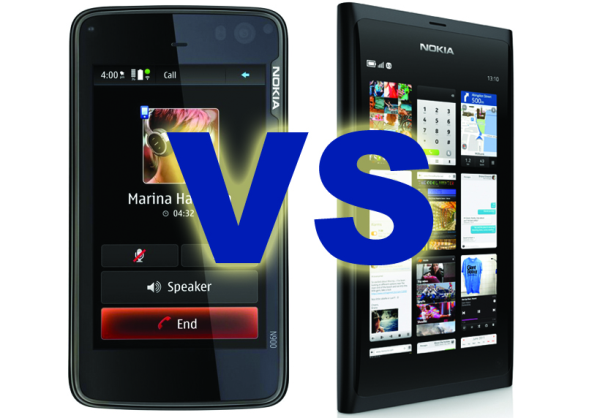 The Challenge
With Nokia N900 already into the market and liked by many users it's quite a challenge to beat this phone one of the World's leader in the mobile phone industry. Well we guess the newest launch by Nokia the N9 would do the bit of beating the N900 with various new features and astounding tailoring.
Comparison Attributes
1. Build
Nokia N900 comes in a bar form with dimensions 116.5 x 61.2 x 12.1 mm and weighs around 135 g. Though it's one of the toughest phones in the market with utmost handiness in using and distinctive composed, it's still not the type reediest smartphone.
On the other hand, Nokia N9 with 110.9 x 59.8 x 18 mm dimensions is a slide phone with full QWERTY. Though it weighs 181 g but still it makes not much of a difference because it is one of the wiriest phone an definitely is more boosted in the elongated dimensions.
2. Screen
Providing a display resolution of 800 × 480 pixels the Nokia N900's touch screen is resistive which provides smooth handling especially when used with the stylus.
Many a people have notions that the resistive touch screens are better than the capacitive touch screen, here's N9 with capacitive AMOLED display which would definitely change their thinking. This screen is sleek and little curved to provide convenience for swiping. More over the screen is made up of Gorilla Glass which would ensure better protection.
3. Operating System
The Nokia N900 works on Nokia Maemo OS. Definitely this OS is not propriety of Nokia but still it supports Nokia's reputation by providing feasibility and easiness to use it along with features like multitasking and triangulation. But somehow it fails to provide satisfactory official sustenance application.
On the other side Nokia N9's MeeGo OS provides a far much better platform for usage, multitasking and integrated notification system to provide the latest feeds from the user's social network. Appearance wise it has a simple and a minimalistic manifestation giving a graceful and a more proficient look.
4. Processor
The Nokia N900 has a 600MHz ARM Cortex-A8 CPU along with 256MB RAM and SGX530 PowerVR GPU to support in the graphics processing and acceleration tasks. Though it's not at all a bad configuration but still everyone has the urge of getting better specifications. So here is Nokia N9 with 1GHz ARM A8 CPU along with 512 MB RAM and PowerVR SGX530 the identical GPU used in N900. Of course it is a better configuration and definitely cool to use but in the market where cellphones with dual-core processors are present this doesn't do much justice thereby proving to be slow runner in the competition of progressive smartphones.
5. Memory
Talking about the storage capacity, the Nokia N900 has 32GB internal memory and it support microSD up to 16GB as an external memory storage. While on the other hand even though Nokia N9 has an inbuilt memory of 64GB, which practically speaking is quite a lot for anormal mobile phone user yet it greatest drawback is that it doesn't have an option of extended external memory storage.
6. Connection
Both the phones have 3G, wifi and Bluetooth support but the extra feature that N9 has is NFC which is in much demand now a days. The N900 has FM-radio while the N9 has just the hardware for it and no software to actually make it working. Moreover the N900 has an infrared support with microUSB and the N9 is equipped with USB and microUSB but no infrared support.
7. Camera
Camera being on of the most important features while judging which phone to buy, the Nokia N900 has a Carl Zeiss 5 megapixel camera with autofocus and 800×480 pixel quality video recording. Though it sounds pretty good but practically speaking it's on the verge of being the worst as at times its auto focus doesn't work and the picture gets damaged when flash is used against very bright background lighting.
In the meantime, the N9 has a Carl Zeiss 8 megapixel camera with touch-focus, face detection, dual-LED flash, geo-tagging and autofocus and video recording at 720p. Though the above features sound very astonishing but its worth is yet to be tested when it hits the market.
Verdict: The Winner
Undoubtedly, the Nokia N9 has a clean sweep over the N900 with definitely upgraded features. In other words N9 can be called a strong descendant of the N900 and the winner amongst the two.