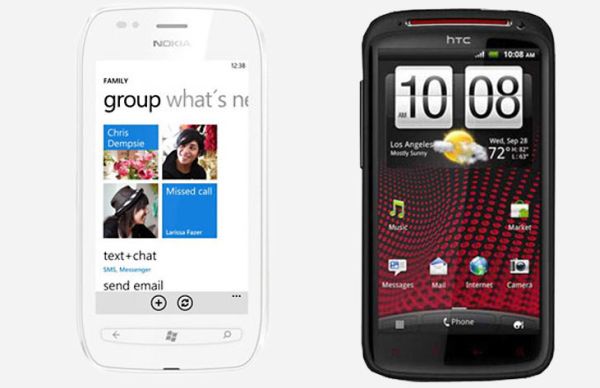 The challenge
Can Microsoft Windows Phone 7.5 Mango operating system outperform the popular Android Gingerbread software? While the operating system integrated in a smartphone speaks loads about the performance of the device, it is not the sole criteria for judging the productivity of a smartphone. Before buying a smartphone we take into account the size, display, CPU, multimedia features, connectivity and battery life, and of course the price of the smartphone handset. And when you have two powerful devices such as Nokia Lumia 710 and HTC Sensation XE tempting you with a bevy of outstanding features, the choice could be quite difficult.
Comparison Attributes
Size
Nokia Lumia 710: This Microsoft Windows 7.5 Mango powered smartphone from Nokia flaunts a poly carbon body 119mm long, 62.4mm wide and 12.5mm thick and weighing 125.5 g.
HTC Sensation XE: The HTC smartphone boasts of a larger but slimmer body measuring 126mm (L) x 65.4mm (W) x 11.3mm (D). With a body mass of 151g, HTC Sensation XE is heavier than its Nokia competitor.
Winner: With smaller and lighter body, Nokia Lumia 710 wins this round.
Display
Nokia Lumia 710: A phone is first judged by its looks, which makes the quality of the display the key criterion for judging a smartphone. Nokia has endowed its Windows Mango powered Lumia 710 smartphone with a ClearBlack display. By significantly enhancing the contrast, it improves the quality of the visual images. The ClearBlack display retains the sharpness and brightness of the images and texts even when viewed in bright light. The 3.7-inch screen supports 480 x 800 pixels resolutions and 16M colors. Standard smartphone components such as accelerometer and proximity sensor are embedded in the multi touch display.
HTC Sensation XE: The S-LCD touch screen of HTC Sensation XE boasts of vivid colors and bright images. The display is suitable for outdoor viewing. The large 4.3-inch screen with 540 x 960 pixels resolution is appropriate for viewing HD movies. Multi-touch sensors, accelerometer, gyro sensor and proximity sensor improves the performance of the Sensation XE display.
Winner: HTC Sensation XE
Processor
Nokia Lumia 710: The performance of the smartphone is powered by a Qualcomm CPU clocked at 1.4GHz. The built-in 3D graphics accelerator displays 3D contents.
HTC Sensation XE: To eliminate glitches and to support seamless multitasking without draining excess battery power, a 1.5GHz dual-core chipset is integrated in the HTC smartphone. High-end graphics is produced on the smartphone display with the help of Adreno 220 GPU.
Winner: HTC Sensation XE
Operating system
Nokia Lumia 710: The Nokia smartphone runs on the Microsoft Windows Phone 7.5 Mango platform.
HTC Sensation XE: The HTC smartphone is powered by the Android Gingerbread operating system.
Winner: There are several pros and cons of the Microsoft and Google operating systems. WP7 offers better communication features, whereas it lags behind the Android OS in multitasking. However, the large app market is largely responsible for the popularity of the Android-based devices. Therefore, on the operating system front, there is a tie between the Nokia and HTC smartphones.
Connectivity
Nokia Lumia 710: To aid communication and data transfer, Nokia Lumia 710 features GPRS, EDGE, 3G, Wi-Fi, Bluetooth 2.1, A-GPS and high-speed USB 2.0 port.
HTC Sensation XE: Along with the standard smartphone connectivity features, Sensation XE supports Bluetooth 3.0 and wireless data sharing with DLNA certified devices.
Winner: HTC Sensation XE
Memory
Nokia Lumia 710: 512MB RAM integrated in the smartphone supports regular multi-tasking. Lumia 710 offers 8GB on-board storage space. However, is does not support memory expansion.
HTC Sensation XE: The 768MB RAM of Sensation XE allows the smartphone users to launch multiple apps simultaneously on the Android phone. The large RAM is beneficial for avid gamers. For storing files and documents, the HTC smartphone offers 4GB onboard storage space. It supports up to 32GB memory expansion via microSD card.
Winner: HTC Sensation XE
Camera
Nokia Lumia 710: The 5MP rear-facing camera of Lumia 710 features LED flash and auto focus for generating optimum quality stills. The built-in camcorder generates 720p HD videos at 30 frames per second speed.
HTC Sensation XE: The 8MP primary camera of the smartphone captures impressive images even in subdued light with the help of the integrated dual LED flash. Shutterbugs could compose 1080p full HD movies with the video recorder. The front-facing VGA camera assists video calling.
Winner: HTC Sensation XE
Battery
Nokia Lumia 710: Lumia 710 users could enjoy more than 6 hours of talk time on 2G network, and on 3G network, the smartphone could work for up to 7 hours 40 min on a single battery charge.
HTC Sensation XE: On 2G network, the HTC smartphone battery supports up to 9 hours of talk time, and on 3G network, it could power the smartphone for up to 7 hours 20 min.
Winner: HTC Sensation XE
Price
Nokia Lumia 710: It costs around $375.
HTC Sensation XE: It is priced at $646.
Winner: Nokia Lumia 710
The verdict
With a better display, higher resolution camera, powerful CPU and Beats audio, HTC Sensation XE is a better smartphone.