A few months back, Darla Mack reported of some reader submitting the Nokia N99 concept phone shot and specs. Now, a recent patent filed by Nokia hints at the fact that Nokia has real plans to roll out a slider phone with QWERTY keyboard and numeracial keyboard.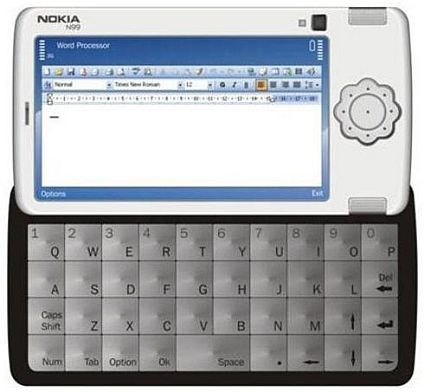 You can see both the pictures and find out that the patent picture is very much similar to that of the rumored one.
For your kind info, the Nokia N99 is anticipated to bring nine-way front joystick button, 16GB of onboard FLASH memory, up to 4GB mini SD slot, 16:9 3.2-inches wide screen, GPS, MP3, DIVX XVID MPEG AVI sport, WLAN WIFI, QWERTY keypad, a whopping 8-megapixel camera, 3CCD 720 pixels, and 30fps video capturing capability.
Earlier, we had Samsung B600 with a 10Mpix camera and the Nokia E90 communicator with 800 x 320 pixel screen. Now, the new Nokia is readying the N99 to make you drool.
Via: Unwired