An Indian mobile payments company PayMate has released a mobile application called PayPOS that will allow small businesses to receive and process payments through credit/debit cards using their mobile phones at the point of sale itself. In India, there is a bunch of mobile applications to make payments but none of them has the ability to accept payments. This is a first app of this kind in the country that also without set up cost, variable fee or rental charges. The application offers real time processing and helps you track all your sales. It also lets you to generate reports and manage as well as promote your business. In other words, the application transforms your handset into a payment-processing terminal and gives you the luxury to accept payment on the move.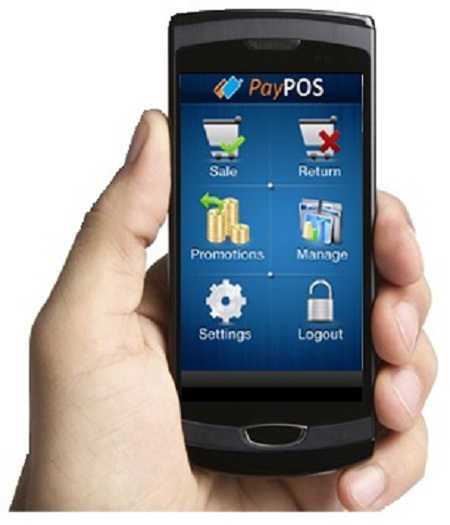 Many merchants used to lose their business, in case if the customer is not carrying sufficient cash or cheques for payment. This application will help those merchants as they can settle transaction on the move while keeping record of the entire sale done. Merchants can also check the transaction history and many other reports. Apart from that, the software allows a customer sitting in a remote location to ask for a product or service and he can make payment at the time of delivery. The app has been already downloaded for more than 25,000 times. This gives you a clear picture about its popularity and success.
How it works?
Any person with a smartphone can register for this application and start using it immediately. First, you have to sign up with PayPOS. You will be provided with a Merchant id (MID) and a Device ID (DID). Device ID facilitates the use of mobile phone as a POS device and the Merchant ID is for customer's reference that will display in the card statement. To sign up, please visit http://www.paypos.com/
To process a charge, user is required to enter his mobile number and the transaction amount. After that, the customer enters the card number, secure password and the payment is processed in real time. You can see the official demo the program in the given video.
Pricing details
As already mentioned that the PayPOS app is available free of cost, but the program will charge a payment gateway charge of 2.95% + taxes. The amount will be taken from the transaction amount. Merchant can also pass this fee to their customers.
Verdict
After looking at the features of PayPOS, we can say that the program will tremendously help the unorganized retail market. Freelancers and other people doing individual work will be able to accept payments without any hassle. Right now, PayMate is not talking about any card reader extension similar to SquareApp in US, but we are sure that they will be having some plans in the future. With or without the card reader extension, the program is already a hit with merchants.