Sony Xperia ion, the manufacturer's first LTE smartphone was debuted to the world at the Consumer Electronics Show (CES), a few months ago. The handset is destined to revolutionize the smartphone segment. The handset was expected to be launched first in the United states. To everybody's surprise, Sony unveiled this handset in Taiwan. The device flaunts sumptuous attributes that bring incomparable entertainment on the move. In fact, certain reliable sources predict this handset's entry into the Indian markets very soon. The manufacturer boosts this device to be packed in with exemplary entertainment along with High Definition brilliance.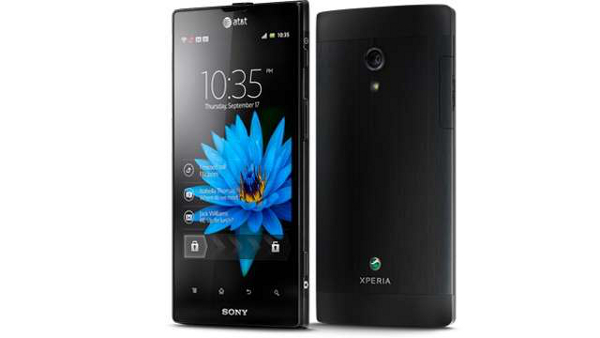 Fortunately, the manufacturer had released the handset's specifications. On the first glance, Sony Xperia ion's seductive style quotients attract immediate attention. A few moments later, viewers would be captivated by its 4.55 inches TFT touchscreen. This scratch resistant display screen has the capacity to express 16 million hues of vivacious colors. Along with high pixel density, this screen could display High Definition information in the standard resolution of 1280 x 720 pixels. The device weighs just 144 grams and measures 133 x 68 x 10.6 mm according to length, width and thickness respectively. In fact, this handset's sleek design could be easily recognized from its dimensions.
On the technical side, Sony Xperia ion runs on Google's Android Operating System, version 2.3 that is highly renowned as Gingerbread. The handset's performance parameters are accentuated by the 1.5 GHz Qualcomm dual core processor. The device has a RAM capacity of 1 GB and a flash memory of 16 GB. In addition, Xperia ion includes an external memory slot that can support up to 32 GBs of deliberate space through microSD cards. Unlike other smartphones, Sony Xperia ion boosts rich multimedia features, especially with its recording mediums. A 12 MP primary camera lets users to capture high quality images on the move. The inclusion of a powerful flashlight adds comfort to capture noise-free images even during low lit situations. On the front face, the device boosts a low resolution secondary camera that helps majorly for making video calls.
If the above features don't quench your needs, Sony Xperia ion has vast entertainment resources that let users to enjoy them on its HD screen. In fact, users may connect this handset to television, laptop or desktop to enjoy larger viewing experience. This feature is accessed comfortably by the presence of a dedicated HDMI port. With Xperia ion, users could not only capture images in a snap, but also upload them instantly. Sony Entertainment Network provides access to millions of songs, movies, music and games as well. To mention, PlayStation contents and its dedicated store can also be accessed through this device.
Above all, Xperia ion flaunts rapid data transfers with its Long Term Evolution technology. Often referred as 4G, this futuristic technology is currently available in fewer regions like USA, Japan and Scandinavia. However, it won't take much time to witness this advanced technology across the world. LTE's highlight is its swift data transfers over the wireless mediums. To be precise, this technology allows users to download and upload contents within a short period of time. Apart from its superfluous advantages, the handset's limitations cannot be determined at this point. If the disclosed information is true, we may expect this handset's launch in India in about a few weeks' time.
Via: Tech2.