A young Kenyan Anthony Mutua, aged 24, has come up with an ultra thin chip of special crystals that can actually charge your cellphone. The chip generates electricity when put under pressure.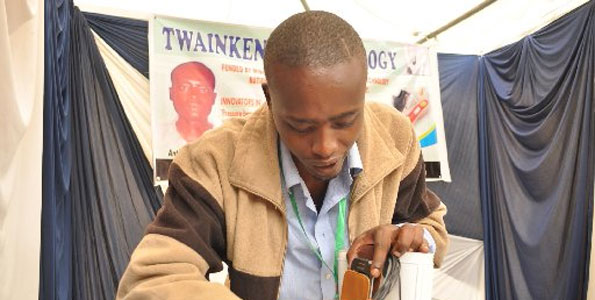 Mutua says that the chip is attached to soles of the shoes and when people step on them the energy is extracted in two ways. The phone gets charged with the electricity generated via a cable that runs from the sole to the pocket. The second way is that the phone gets charged as soon as the user stops walking as the chip has the ability to store electricity. Mutua wants the second option to go into mass production as it is more feasible and practical. The second option is better because it can charge several phones at once with the stored charge. The chip is so thin and discreet that it can be attached to the soles of anything from a pair of boots to a pair of bunny slippers. If the sole gets worn out, the chip can be detached and attached to another sole.
The chip is estimated to be priced at ksh 3800 or $46. The chip comes with a warranty of 36 months provided the shoes/slippers are not lost or stolen.
Anthony Mutua revealed his invention at the Science and Innovation Week held at Nairobi. The invention has been patented by the Kenya Industrial Property Institute: the body which handles patents and copyrights for intellectual property in Kenya. Mutua's project was funded by the National Council of Science and Technology with a sum of ksh 500,000 or $6024. The body has also assured to fund the mass production to make it available in the market. The council helps fund prototypes to see the light of the day and in a country like Kenya where electricity is a scarce commodity, Mutua's invention might just be a breakthrough.
Via: Humanipo