So you have just grabbed the scintillating Samsung Galaxy S5 packed with features galore in its petite plastic frame and ushering in as yet another comprehensive and rewarding smartphone for users. Although it may not prove itself maverick in terms of looks when compared to its predecessor S4 , the S5 definitely snags a potpourri of advanced features, a subtle improvement over S4, the words of which had created quite a flurry among zealous android users even before it was launched in the market. From embracing a fingerprint scanner and a heart rate monitoring sensor to being a refined dust and water resistant device the matte-finish Galaxy S5 remains a true durable descendent of the Samsung family ready to withstand a few knocks. Here's what he S5 brings to you in the offing
2.5GHz quad-core CPU, 2GB of RAM, a 2800mAh (removable) battery
Vibrant, bigger screen stretching 5.1 inches with added biometrics
16/32 GB Memory and MicroSD capacity of 128 GB extra
Scratch-resistant Glass, Light and Proximity Sensor
16 MP Camera with LED Flash and Phase Detection Autofocus, High Dynamic Range Mode, F2.1 Megapixel front-facing camera
But while the smartphone indubitably offers you a swarm of features, there are some accessories which can help you make the most of what the phone offers you and something extra.
360 Degree Rotating Car Holder: Give your Galaxy S5 a secured place while you are behind the wheel by mounting it up the 360 degree Rotating Car Holder that grips your phone tight and prevents it from slipping off. The unique ball joint enables you to choose the apt angle and then fasten it to keep it secured. The holder can be fixed to your car's windshield or dashboard by pushing the lever down and helping the suction to work and hook it in place.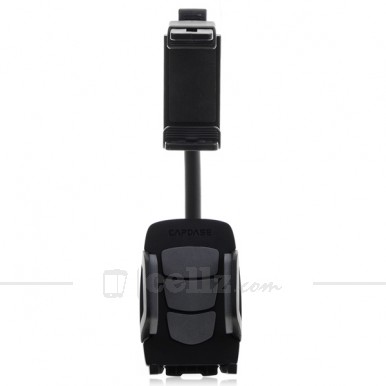 Replacement Battery Kit: The sleek design of Samsung Galaxy S5 does not give you any opportunity to go gaffing and goofing about replacing batteries. So if you feel your phone's battery is bungling up simply flip aside the back and slip in a replaceable battery. For this, all you need to do is keep a pack of 2 2800mAh Galaxy S5 Li-on Batteries and you can bet your smartphone will give you smarter killer performances.
Headphones: Who said over-the-ear headphones can only be bulky? With a vast spectrum of over-the-ears headphones available designed for Samsung S5, audiophiles will be spoilt for choices in picking out the apt portable companion for adding greater precision and poise to their musical sound. From sleek MP3 Headphones with built-in microSD Card slots to immaculate quality Super Bass Over-the Ear Headphones there is something in myriad hues and design for every sort of music maven out there.
Speakers and Audio Boxes: Want some music on the go? Accouter your smartphone kit with a mini audio box or a digital speaker and you can enjoy clarity and precision of high end music systems. The portable Bluetooth speakers also evoke scintillating style along with excellent sound which make your S5  a worthy music box even when you hit the road or take the flight up there.
Cases: Of course you would not want your cherished S5 to get maimed after facing a bang. True, Samsung S5 boasts of being quite a tenacious device compared to its competitors yet it is worthwhile harnessing the body and the screen it with a protective case.

If you sit to browse the web you will be overwhelmed to see the number of covers and cases that have been designed for the S5 in vibrant hues and textures. However, purchasing them from a reliable online store like that of Cellz.com http://www.cellz.com/samsung/samsung-galaxy-s5/cases.html is imperative to ensure that you are investing in quality and authentic stuff. You can choose from a wide variety S5 cases with silicone back covers in elegant metal or peppy cartoon settings to Gradient and Patterned ones that echo your personal style and tickle your taste buds. For those looking for an eclectic mix of phone hooking and protective covering the cases with stand functions can turn out to be a good buy.
With the smartphone promising immense rewards sprucing it up with these accessories can indeed make your Samsing Galaxy S5 a wee package of surprise that easily slips in your pocket.