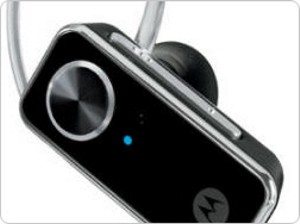 Here are some cool new headsets from Motorola. The H-series Bluetooth headsets are cool gadgets that are innovative and comfortable. Motorola products are no doubt closer to life and more practical by nature. The new H620 & H560 have been designed and developed to help you use it while jogging or driving.
Keeping in mind that we live in the hustle-bustle of city and understanding the fact that adjusting sound isn't that easy, Motorola has made this new addition to the H-series. H620 can be used with ease when one is driving or riding a vehicle or walking past a crowded area.
The new design is specifically tailor-cut with anti-noise technology for adjusting volume in correlation with speed of the vehicle or with the noise of the road. It is also loaded with anti-echo technique for better reception of sound. It aims at better call quality without diminishing with different localities.
The new H560 headset is more general in nature and use. It is loaded with anti-noise and anti-echo technology along with improved ear tips that helps the sound reach the ear in a better manner. It also has multiple ear pads for a comfortable use.
The H620 & H560 come with an on-dash holder as well as a car charger to help you keep your headset fully charged for all situations. The images and prices are not yet out for general viewing. The headsets are expected to hit the market during summer. Affordable, easy to use and smart, what more would anyone ask for!
Source: Electronista