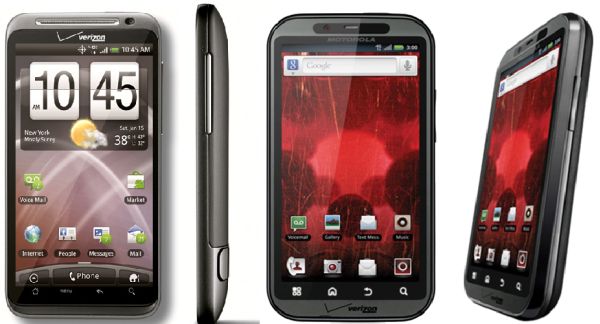 The two biggies of the mobile phone world, namely Motorola and HTC, have launched their newest contender smartphones in the market Motorola launched Droid Bionic and HTC has introduced Thunderbolt. Both are CDMA phones launched under Verizon Wireless and have got enormous amount of features, let it be tangible or intangible. With the launch of these smartphones the manufacturers, Motorola and HTC have shown that they are trying new ways to capture the major share of the smartphone market by launching them with the famous and mostly used mobile operating system 'Android'. Both smartphones have a more than average price tag ($299 for the Droid Bionic, $249 for the HTC Thunderbolt), but both of these can be had for less than the usual price if you know the right place to get'em. Let us see how their various factors contradict each other to finally get on the top.
Operating System
First let us consider the operating system the devices were employed with. HTC Thunderbolt is equipped with Android Froyo i.e. v2.2, on the other, Motorola Droid Bionic have Android Gingerbread (v2.3.4) installed which is the latest released version of Android. Seeing this, Motorola is clearly winning this one but since the HTC has recently announced the release of the Gingerbread update for Thunderbolt, this is not a one sided round. The ease of getting an OS could be a deciding factor. Droid comes factory packed with Gingerbread version of Android while one has to the update on his own if he is an owner of HTC Thunderbolt.
Winner is: Motorola Droid Bionic
Browser
HTC and Motorola both provide the basic HTML browser with their respective phones. Comparing the two browsers with the hardware specifications of the phones, both of them should have got a better browser. Performance wise the two are quite equal.
Winner is: It's a tie.
Radio
This round is just a formality because Mototrola Droid Bionic is not having a radio! But when it comes to HTC Thunderbolt, it not only has a stereo FM but also an RDS in it. The Radio Data System (RDS) allows the users to select certain types of programming to search specifically for, such as music or news, for the radio. So this round is single handedly won by HTC Thunderbolt.
Winner is: HTC Thunderbolt
Battery
The HTC Thunderbolt incorporates a standard battery, Li-Ion 1400 mAh. This leaves it behind in this round from Motorola Droid Bionic as it has a standard battery of Li-Ion 1735 mAh. mAh (milli Amp hour) is a unit to measure the electric power over time. It is commonly used for describing the total amount of energy that a battery can store at one time. A higher mAh rating means that the fully-charged battery can power a device that consumes more power over a period of time and/or a comparatively lesser power for a longer amount of time.
Winner is: Motorola Droid Bionic
Camera
Both the smartphones have an 8MP camera on their back and also a 2MP one in front for video calling and self-portraits. Motorola's Bionic have the ability to record 1080p video with its rear camera while the Thunderbolt is limited to a 720p HD camera only.
Though Motorola Droid Bionic gives full HD videos, the Thunderbolt has a superior quality.
Winner is: Motorola Droid Bionic
CPU
Based on the specs alone, Motorola Droid Bionic has a big advantage over the HTC Thunderbolt. Inside Motorola's phone has a dual-core, 1-GHz Texas Instruments processor supported by 1GB of RAM (the same CPU/RAM combo in the Android tablets) while the HTC Thunderbolt sports a single-core, 1-GHz Qualcomm Snapdragon processor and a RAM of 786MB.
The answer for 'Do we need a smartphone with a dual-core processor?' for current situation is 'No' because if we are getting a well performing single-core processors for the cellphones then why go dual core which imposes more complexities over a smartphone. HTC Thunderbolt is a well performer. And most of the apps aren't going to consume a whole lot of your CPU that you'll notice the difference. The Bionic will remain snappy and also, powerful even as the apps hog more of the internal resources.
Winner is: Motorola Droid Bionic
Memory
HTC Thunderbolt has an internal memory of 4GB and a card slot for MicroSD card to employ an additional storage up to 32GB and also a 32GB MicroSD card is included in the package.
On the other hand, the Motorola Droid Bionic has an internal space of 16GB for storage purposes. It also provides a MicroSD card slot with an extendable capacity of up to 32GB but the package includes 16 GB only.
Winner is: HTC Thunderbolt
Overall Winner
After seeing all the employed features and hardware specifications, it can be said that though Motorola Droid is equipped with excess of features, those will come handy for the user in future. Performance wise, both are quite good but the Bionic takes a leap ahead of Thunderbolt. The winner is Motorola Droid Bionic.