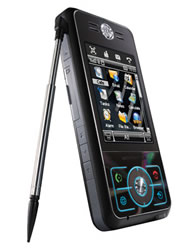 The Motorokr E6 is finally available in China. The Motorokr E6 is a PDA Touch screen phone with a 2.4-inch TFT display which gives 256K colors. This large screen is augmented by a 2 megapixel camera which gives 8x zoom.
The phone has video recording capabilities and its 8 MB internal memory can be boosted up to 2 GB with the help of microSD card slot and MMC slot. E6 has integrated FM radio and a MP3 player and connectivity is provided through Bluetooth and USB 2.0.
It has received FCC nod and is all set to land in India in quarter 2 of 2007.
No word on pricing.
Via: Gadgetell