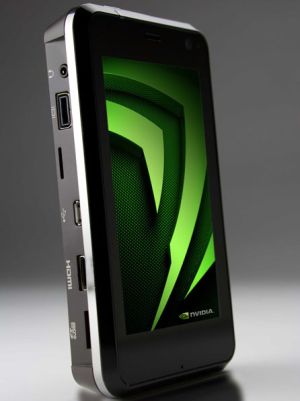 NVIDIA surprised everyone when they unveiled their new platform for mobile phones. APX 2500 mobile platform is industry's first ever to have HD capabilities. NVIDIA also displayed a prototype that used their new amazing chip. Its interface is just unbelievable and is an absolute eyecandy. To be frank I liked it over Apple's masterpiece.
What's more surprising is that this phone had an HDMI out and NVIDIA were using it to display what this chip is actually capable of. They had it hooked to a big plasma screen (720p) and it surely looked amazing. Phone powered by this chip is nothing less than a portable power house. NVIDIA's Oscar Clark said, "What this shows is the iPhone didn't go far enough."

This phone can play up to 10 hrs of video and 100 hrs of audio. NVIDIA stressed on its HD video capabilities but I can just make a guess that this platform can really push the standards of mobile gaming to new limits. But that is a thing of future, for now I am planning to buy a phone that'll be equipped with this powerful chip and for sure, it won't be cheap.
NVIDIA is working with Microsoft to develop phones using this new platform. Hopefully there will be a phone like this one soon in market. But till then you can watch this video that displays the power of the world's first HD capable chip for mobiles.
Via: PCLaunches