The Micromax X222 is an amazingly cute phone, with a design that is very appealing. Thanks to good audio, video and camera capabilities, it offers good entertainment. The Micromax X222 takes things way ahead with its touchscreen capabilities, dual SIM feature, and 3.5 mm audio jack. This cute little thing has a lot to look forward to for individuals with a low budget.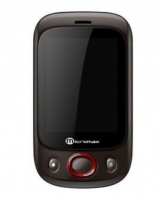 Performance
The Micromax X222 is a smooth phone that comes with a proprietary processor and a 0.3 megapixel camera that offers a maximum resolution of 640×480 pixels. The quality of camera is quite okay and it clicks good pictures with 0.3 megapixels. With the option of an external microSD/microSDHC memory card that can be expanded to a maximum of 8GB, the pictures clicked, along with music and videos can be filled in the external memory storage and enjoyed without any worries. The connectivity options like Bluetooth and microUSB can be used for instant file transfers to PCs, friends, and family. The audio/video player offers good playback and good entertainment that will definitely be appreciated. This phone comes with a 3.5mm audio jack that takes things further, as it allows the connectivity of different high-end headphones and external speakers to the Micromax X222.
To add to it, the Micromax X222 is packed with a loudspeaker that offers good quality sound. The internet can be surfed with ease though the preinstalled WAP browser in this adorable phone. The Micromax X222 comes with a standard Li-ion 900mAh battery, that offers a talk time of upto 6 hours with a standby time upto 157 hours.
Features
The Micromax X222 is a touchscreen phone that comes with a proprietary operating system, CPU and is very basic, yet different. This phone supports 2G networks (GSM 900/1800) and offers a dual SIM option. Different connectivity options can be found that include GPRS, Bluetooth and micro USB.
It does not offer Java support or Wifi, but offers a WAP web browser and supports both SMS and MMS messaging formats.
The Micromax X222 comes with an organizer, a good camera, FM radio and an audio/video player that supports MP3, WAV, eAAC+, AVI, MP4, 3GP formats for daily entertainment on the go.
The Micromax X222 comes with an internal memory of 45KB that is obviously too little, but is made up by the external memory (microSD / microSDHC card) support with a maximum of 8GB.
The cute Micromax X222 is available in coffee brown and pearl white colors.
Design
Small, charming, and attractive is what the Micromax X222 really is. It has a good and strong build. The Micromax X222 is created with dimensions of 92x52x14 mm and a lightweight of 83 grams and a curvy design that can be seen on many Micromax phones. It has a 2.4-inch TFT resistive touchscreen with 65K colors and a QVGA resolution of 240×320 pixels. Although it does not offer a capacitive touchscreen, the touch sensitivity that it has is quite good.
Bottomline
The Micromax X222 offers brilliant basic features along with classy extended features at a price under INR 2,000. The most impressive features include the resistive, yet good touchscreen, dual SIM option, and 3.5mm audio jack. You won't find these features even on many high-priced phones today. Let us not forget its super cool design. Although it lacks 3G support, when it comes down to 2G support, the Micromax X222 works impressively. The touchscreen is cute and small, while its dual SIM feature reduces the requirement of carrying another phone. When boredom occurs, the Micromax X222 works its way through different multimedia features that really help. Overall, the Micromax X222 is a good touchscreen phone when it is compared to its price. The Micromax X222 is a good, ultra-low budget phone that serves really well, keeping its price in mind. It is a good phone for individuals looking out for high-end calling and basic requirements of entertainment.