Gone are the days when trendily outlined, sleek mobile devices would needle users for heavy price points for letting them benefit from their amazing features. Today, it's more about forking out less for latching onto 'more'. At least, that's what the attractive Micromax Q66 Eclipse handset has to say for what it features under the hood. Devised aesthetically with a unique swivel style form factor, the mobile phone touts to revamp the way you stay interwoven with your close networks but through the roots of its incredibly Facebook ready feature. We hope you don't need a brief over the said attribute. Nevertheless, the compact Q66 does pack a punch of great connectivity, pleasant design and a good set of functions. What's more, a price tag that falls almost as lightweight as a feather.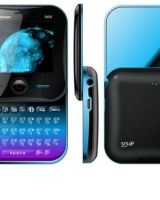 Performance
Let's talk about the performance field now. The reasonably priced Q66 functions quite well as far as the speedy browsing and quick page loading is concerned. But certain disappointments pour in due to the device's lack of 3G and Wi-Fi capability (probably something that Micromax thought of compensating with Snaptu, Bluetooth and WAP). Nevertheless, the handset scores good points for offering clear and strong in-call sound. The speaker renders a solid sound quality as well, owing to its powerful SRS HD effects. Some may even appreciate the neat placement of a 3.5mm jack, though absence of dedicated external sound keys is a reason to arch your shoulders.
The 850mAh battery makes the experience noteworthy by ensuring two days of backup on average usage. Wrapping up the performance card is the impressive talktime of up to four hours and standby time of up to eight days.
Features
Though not so overly stuffed, the handset from Micromax still manages to prance with somewhat noteworthy features, offering social buffs the biggest treat to dote on. The device comes equipped with a decent 6.1cms TFT QVGA display that offers a resolution standard of 320 x 240p and visual clarity for pictures and video viewing. Enclosed in a swivel form, the handset has a full QWERTY keypad with trackpad for those who like getting things easier and faster. So be it typing in long messages, pinging friends lickety-spit or just sharing something instantly, the stylish Q66 lets users do just about everything. However, it might be a bit too hard to draw a comparison between Micromax's this toddler and other high end smartphones that have been buzzing the market these days.
At the same time, don't be disheartened as Q66 features a large expandable memory of up to 8GB but with the support of a microSD card. Photography enthusiasts, on the other hand, should be enabled to capture memories in good quality with its 2.0 megapixel camera. Yet again, it would be better if we don't match the strengths with other handsets out there. Besides all these, the Java-enabled phone also takes care of users' entertainment needs by having planked down stereo FM radio, video player, video recorder, support for multiple music files, and integrated WAP, MMS and E-GPRS. Completing your decent journey would be the embedded games that ensure a bundle of entertaining missions and fun-filled objectives.
Design
Did Micromax slash down the dimensions for a lanky look? Yes, it did. Did Micromax stamp on its style factor upgradation? Yes, it did. So how far does Q66 phone succeed as far as its looks are concerned? Well to get down to brass tacks, the handset features a real trendy appearance whilst pretty much maintaining the standard fabrication. Doused in bright, eye catchy hues, the model boasts of its adorable swivel form factor which merely adds up to the convenience. Quite compact at just about 118gms, the dual GSM band unit rightly manages to suffuse a blend of ease and functions.
Enclosed in a clamshell body that shares the dimensions of 71mm x 71mm x 18mm, the phone has a 2.4" landscape screen which is quite vibrant and offers sharp detailing. Joining the screen neatly is a responsive trackpad which could also function as the screen lock and unlock button. Being a style admirer, you might somewhere appreciate the Q66's smart appearance that boasts of its smooth, natty curves and ingeniously conceptualized body. So, how many colors does one get see across the surface? Well, users will be seeing an amazing combination of black, purple and royal blue that has been stretched quite decently across the entire frame. However, in terms of its button arrangement, Micromax has put a line of dedicated keys towards the model's other end, whereby access to music, messaging, two call keys for dual SIM, and Opera will be offered. The phone also has a shortcut access to the ten most frequently used features.
Bottomline
To call upon the final cards, Micromax Q66 is a pretty good handset for users who want complete, easy access to their social networks with a sense of style very much alive. Priced as low as Rs. 5,610, the phone does showcase a beautiful blend of aesthetics, performance and value for money. But if you want high end functions like those found on smartphones, then Q66 is definitely not a right halt for you.