Since the inception of touch screen enabled mobile phones, the mobile war has gone to the next level. First it started with the price war and then with different variants and features. Now every mobile manufacturer want to produce a touch screen enabled phone with lower price to cater the price sensitive market. Micromax E390 is a new entrant in this block. It is available in the market from March 2012. It is a pocket friendly touch screen phone with good quality build in components and bundled with some good features. This article will guide you on different features, price and specification of Micromax E390.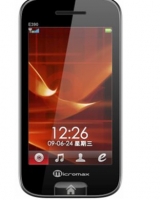 Performance
Micromax E390 is an entry level touch screen phone with average voice quality, average sound quality. The data handling is fast; thanks to the 3.1 MBPS 3G support. But the MP3 audio capability is average. The display is small and as there is no QWERTY keyboard it is difficult to type. User has to use stylus or his hand. The touch screen is not a very sensitive one and user has to press properly to navigate. User can use digital zoom to capture photographs at 1280×1024 pixels. User can take photos at continuous mode, macro mode and other usual modes such as grey scale, night vision, and scenery mode. Using the camera, user can capture video at 320×240 pixels. User can also stream the video at 320×240 pixels without any loss.
Features
E390 comes with a 1000mAH Li-ion battery with a great battery life. The stand by time is 10 days and talk time is 15 hour. Micromax E390 comes with 2.8 inch TFT touch screen display that can produce 240×400 pixel resolutions. The touch screen display is resistive in nature. E390 is a CDMA enabled hand-set that can operate at CDMA 2000 band or 800 MHz operating frequency. A 1.3 MP camera is installed in the upper right hand side of the back side of the camera. The supported video format is 3gp and mp4. E390 is pre bundled with Java based Operating system which makes it possible with featherlike touch functionality and easy navigation from a different set of onscreen menus. It comes with 40MB internal memory. Memory can be extended up to 8GB by using a micro SD card. In the phonebook, user can save up to 2000 entries. E390 has great social networking capabilities. It comes with Opera Mini browser, Nimbuzz, Sanptu, Facebook, Twitter, Yahoo and Gamial. User can always connect to the internet using the 3.1 Mbps EVDO Rev-A 3G connectivity feature. It also has the Bluetooth and USB capability. But E390 does not have any provision for EDGE or GPRS or wireless protocol installed. One of the major add-on features for E390 is the Live TV. With this Live TV support, E390 users can watch TV programs from their mobile hand-set without accessing a TV set. User can record the TV show as well to watch them later. It also supports different JAVA application and come with pre bundled java base games. User can enjoy mp3 audio, mp3 polyphonic ringtones also. E390 has handwriting recognition software preinstalled and it has an e-book reader as well.
Design
Micromax E390 has a form factor of a bar. Dimension of Micromax E390 is 98.1×50.5×15.3 mm and weigh around 83.7 grams only. The color of the body is Black and it has a matt finish. The edges are smooth and the phone is designed ergonomically. It is easy to carry and hold. Also the components are built on good quality material. It comes with a stylus. It has two physical buttons, power on/off button and home button.
Bottomline
E390 is an entry level touch screen phone and also it is a pocket friendly phone. This is best for all those who are lower on budget but want a touch screen enabled phone. But user has to accept the phone with all its limitation such as absence of 3.5 mm jack, call/receive button, physical volume up/down button.