HTC Magic is a cool looking touch screen Android handset that flaunts impressive design and features to attract attention of any mobile user. This handset is not a groundbreaking device or does not have something that we have never seen before, but with its cupcake full of changes, it promises to offer a complete new experience. It has all the basic and advanced features that can easily challenge all other smartphones. We believe that you will like the powerful handset without missing the physical keyboard.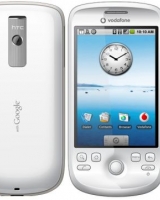 Performance
Its touch screen is responsive enough to take all your orders. The on screen keyboard works well; even the lightest touch does the work. Image quality of the screen is good while color contrast and brightness levels perform greatly. Visibility is perfect, even under direct sunlight. Sometimes, it reflects light and creates occasional rainbow on the screen that needs some adjustment.
Web browsing is easy as well as fast, but its camera is the weakest point. It never clicks sharp pictures and if you are moving and shooting pictures at the same time, you will see unbelievable lag. Sometimes, the camera even denies reflecting right colors. Videos are also not satisfying, especially if there is some movement involved. Apart from web browsing, all the other apps and applications are fast and easy to navigate. Music player is fine, but you will not find any graphic equalizer.
Features
The handset features a large 3.2-inch (320×480) display and trackball navigation. This Quad Band 3G cell phone has a 3.2 megapixel camera with auto focus and video recording. Features that keep you connected include 802.11b/g Wi-Fi, GPS, Bluetooth 2.0 with A2DP and a powerful web browser. To access the web, you can also use HSDPA 3G. Running on Android 1.5 Cupcake OS, it has 528MHz Qualcomm MSM7200A processor, 288 MB RAM, 512 MB ROM, 512mb internal storage with internal storage up to 8 GB. Installed with 1340mAh battery, Magic gives you a standby time of 660 hours and 450 minutes of talk time.
There is an onboard accelerometer on the handset that switches the screen to landscape once you turn it on its sides and you can zoom in/out with a tap of screen.
Design
Magic has a stylish yet simple design, which translates into one of the best exteriors HTC has created. It pings in with pocket friendly dimensions and weight of 113 x 55 x 14mm and 119 g respectively. Due to its smaller size and on screen keyboard, the handset is extremely comfortable to use even while it's operated with one hand. Most of the part is plastic built, but still the phone feels solid in hand and its gentle curves give you a comfortable grip and it protects it from dropping. The handset is built in such a way that you cannot leave fingerprints easily on the display or on the case. The handset is available in black and white color.
The screen takes most of the front part. Above the display, there is the speaker and an LED light to display battery status and proximity sensor. Talking about the keyboard layout, there is a trackball in the middle at the bottom of screen. Menu button is to the left of the trackball and there is a search button on the far right that serves you when you want to find anything.
Bottomline
HTC Magic is just the gadget for which all the mobile user were waiting. There are few complaints, but its eye appealing design, improved features, easy to use interface and impressive performance allow it to be the first choice of handset buyers. Unless you need a virtual QWERTY keypad, the handset is satisfying in every way. Overall, we can say that it is a serious contender of iPhone with a sexy case and competitive features. If we stop comparing it with iPhone, then this is the most suitable handset for every requirement.