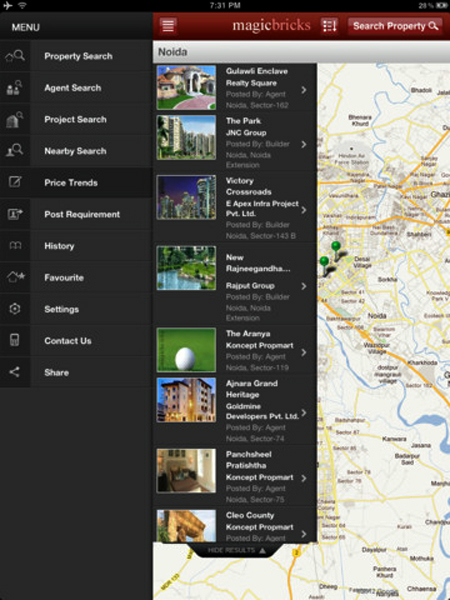 The online Indian real-estate giant, MagicBricks.com, has successfully increased its screen real-estate holdings with a new iPad app. Thus, it holds the distinction of launching India's first ever property app. The app has created a stir of sorts as it is perfectly optimized to the largest selling tablet in the world today. Whether one wants to browse for real-estate listings to find homes, houses, apartments and land for sale or rent, this property-search app will come very handy. In fact, it claims to find the best properties in India from anywhere with the greatest ease.
The app works via MagicBricks.com which allows users to sell, rent or buy property. The app boasts of a host of user-friendly features that promise to make it an all-time hit. The search feature for new property, agents and projects is very easy to use and the results can be further refined. The 'NearBy' feature allows to locate properties based on distance fro user and the Map offers directions instantly. One can also study price trends, contact advertisers and create property alerts. Furthermore, the favorite projects, agents and properties can be bookmarked or shared via Facebook or Twitter.
MagicBricks has always sought to reach users irrespective of their location and the notwithstanding the device they use. Made by Times Business Solutions Ltd., the app seems to be following a natural progression of strategy and development. MagicBricks has already made an entry on the mobile screen with the introduction of India's quickest Mobile WAP site and also India's first iPhone and Android real-estate apps. Recognizing the need to have a huge user-base from abroad also, the world's most popular tablet was targeted.
The animations which run on the app are very absorbing and creative. The app also has a clutter-free interface. Combining this with the large screen and HD experience of the iPad, the Indian property solutions are taken to a new level of convenience and interactivity. The swipe interface of the app is intuitive and it helps one to search property based on budget, location and property-type. The images of the property can be seen in a carousel view along with listings and interesting details. This makes it easy for the seller to market his properties well. The buyer too has good options to post requirements, instantly contact sellers and search for properties based on filters.
The Business Head for MagicBricks, Sudhir Pai, stated that this app for the iPad has evolved as a natural sequence of events that corresponded with the grow of MagicBricks as the leader of online property space in India. The app is available as a free download in the iTunes app store from May 15, 2012 onwards. The version 1.0 is is about 6.4 MB in size and is compatible with iOS 3.2 or later versions.
Via: afaqs