What is it?
Verizon has been drawing a lot of attention recently for lining up a big number of LTE supported smartphones from a range of mobile phone manufacturers, including some very reputed names too. A recent entry in the list of smartphones that will be powered by LTE network is LG Spectrum (Revolution 2). After a round of rumors of the inclusion of the phone in the lineup of smart mobile devices by Verizon, the news was confirmed when the phone showed up in a Verizon system some time back. The list of features and photos of the phone, that were meant to be presented for the official press release of LG Spectrum, were leaked and thus a big deal of information has been found about the phone and what it is going to offer to LTE patrons.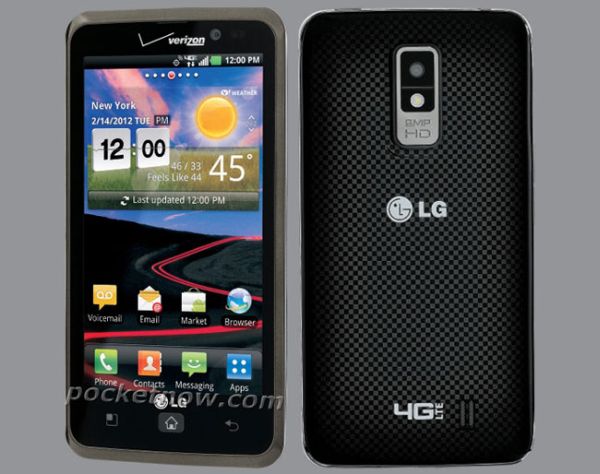 The phone is loaded with gallons of features. Adorned by a 1.5GHz dual-core processor, 720p display, 8MP camera and a range of other features (that we would discuss in the later part of this story), this is going to be an interesting option for any Verizon loyal. LG Spectrum shares similar, or shall we say close to identical, internal mechanism as that of LG Optimus LTE and LG Nitro for AT&T. Though the exterior or look of the three models do vary to some extent.
For whom?
Having been designed for one of the best and leading carriers of US, LG Spectrum is sure to punch in all the typical, latest features of a smartphone at the least. What you can expect is a phone that is going to give new definition to smartphones by including features that are either absurdly striking or are immensely large in number. Newest of the new technology is one thing that this phone is not going to leave behind. So basically, this phone is supposed to please anyone with an itching for experiencing newer technology, or for someone who simply loves to play around with smart mechanism and technology, or for someone who just wants to throw away his old gadget to upgrade himself to a new revolution of a smartphone.
Price and availability
Initially, it was heard that the phone would be released in the market and would be available to the users on the 14th of February. But now it is being said that the phone will be introduced to the customers before that mentioned date. As for the pricing, there is no news on that so far.
Why the hype?
With a big number of smartphones being lined up by Verizon within a span of six months, the possibility of another choice for customers from Verizon pulled a lot of attention, though all of it might not have been quite positive or encouraging. With the inclusion of LG Spectrum in the same list, competition is to stiffen up making it further difficult for the users to choose one out of the newly introduced varieties. What fanned the hype was the mixed information based on assumption and the collected news on the features and qualities of the phone. To add further, the phone has a smart button layout and a slim size, thus eliminating the disappointing element of first-generation LTE devices.
Functionality
Apart from the dual-core 1.5GHz Qualcomm Snapdragon processor and 8 megapixels camera, that have been mentioned in the beginning of this article, this phone, which runs on Android 2.3 Gingerbread, has a queue of interesting features. The display of the phone is a 1280 x 720 HD 4.5-inch touchscreen. The rear camera can record a 1080p HD video while a 1.3MP front facing camera facilitates good quality video chatting. Spectrum is capable of handling up to 10 gadgets on its Wi-Fi hotspot. Besides Wi-Fi and Wi-Fi Direct, the phone supports Bluetooth, GPS, 4G LTE, HDMI, DLNA, etc. A 1GB RAM, a 1830 mAh battery and an in-built memory of 4 GB also are included in the features of the handset. There is a microSD card slot too, in case you want to increase the memory of the phone.
What's different?
We have already mentioned about the novelties of the phone. There are a few areas where the phone is different or better than its competitors. Firstly, the phone will be coming in a slimmer avatar. Apart from that, the screen of the phone, with a 4.5-inch touchscreen with 1280 x 720 IPS, is to deliver nothing less than the finest display with very sharp graphics. A 4G/LTE on-board radio would make the device capable of managing 10 devices on the Wi-Fi hotspot. At the same time, that would also make data and voice calls possible on 4G/LTE.