LG's S365 is yet another entry in the dual SIM phone arena. Known only by its model make and not by name, the phone aims to shine by its features rather than flaunt a title. The first thing to notice is the large 2.4" screen, which is rare in bar form factor phones. The S365 has an excellent loudspeaker and great headphone sound as well. Internal memory is meager at only 9MB but can be expanded up to 16GB via a microSD card. LG wanted the S365 to be the perfect companion 365 days a year, and it succeeded by making it the perfect balance of style, connectivity and entertainment. Following after, Samsung LG has also built in a "Mobile Tracker" feature in this phone that may come in handy. The S365 has a 2MP fixed focus camera, which is decent, if not great. In addition, the phone comes with Windows Live messenger, Indian Calendar, Social Networking apps and a secret folder that can be used to store personal data.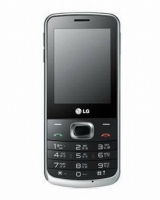 Performance
The S365 was launched by LG while keeping performance in mind. The phone is full of features irrespective of its low price. The phone may appear sluggish over time, but that is only due to the excessive number of preinstalled apps. The FM radio has good reception, music plays clear and loud and social networking apps are in abundance, keeping you updated with your family and friends. The camera disappoints as it takes poor pictures in lowlight and video recording is in 3gp at only 15fps QCIF. Web browsing is fast all thanks to Wi-Fi and EDGE. Mobile Tracker also performs well. The phone comes with a massive 1200 mAh battery that guarantees a talk time up to 14.5 hours and standby time up to 559 hours.
Features
The phone is dual SIM and supports Tri Band GSM/GPRS/EDGE. One of the major USPs of this phone is that it supports Wi-Fi. LG has really hit the mark by throwing in the Wi-Fi at such a low cost. The S365's music player plays all major/popular audio formats and sound quality is great on both loudspeaker and headphones. The video player can only play 3gp videos and not mp4. The 2MP camera is fixed focus and clicks decent pictures in daylight; in cloudy or low light environments, the quality falters. The S365 comes with an Auto Call recording feature, FM radio with RDS, Social Networking apps like Facebook, Twitter, MSN messenger and Opera Mini. The phone has a measly internal memory of 9MB, which is okay considering that the OS is java. Net connectivity on both EDGE and Wi-Fi is quite fast.
Design
The LG S365 is a candybar phone and has the same design as the other bar phones from LG. There are no real extraordinary variations. The 2.4" TFT display of 240X320 pixels resolution, takes up most of the front of the phone. At 117 x 50.9 x 11.5 mm and weighing only 85 gm, the phone is both light and sleek.
Bottomline
The feature list of LG S365 is quite impressive considering it is also a dual SIM handset. The phone was launched in 2011 and has received warm reception and sales have been good. Users have no complaints apart from the low camera quality, but we do not expect everyone to whip out their 2MP phone for high-resolution shots. The 2.4" dishes out excellent screen clarity and graphics. The music quality is great considering LG is not renowned for music phones. The Wi-Fi makes it a must buy as well. If you are looking for a feature packed, budget dual SIM phone, then the S365 is for you.