LG Electronics is adding one more member to its mobile lineup with the launch of new 5.1 megapixel camera phone, the LG Viewty, which comes with advanced features and the ability to record video at up to 120 frames per second. The LG Viewty will be available in the UK from mid-October on all networks and from all retailers.
The new touch screen phone allows its viewers to enjoy a wide range of professional-level digital camera features in a single sleek handset. Last year, LG, which led design innovation in the arena of mobile handset, is once again driving new mobile phone trends by shifting its focus to high-tech functionality.
The LG Viewty has sleek black surface on the front end of the phone with the 5.1-megapixel camera and jog wheel on the back.
The LG Viewty allows users to create and edit their own video files directly on the phone and upload them to YouTube.com. Additionally, the phone gives you ability to access Internet on their phone. This Google-friendly phone offers you high speed 3G HSDPA connectivity at 3.6Mbps.
The features of LG Viewty in detail:
1) Built-in digital editing software: The LG Viewty comes with manual focus functionality, which allows users to take more control over their pictures. Additionally, the in-built stabilizer helps you to record clear images. With the LG Viewty, users can personalize their unique pictures by writing on them digitally using the 3.0 inch LCD screen and attached stylus. Users can also use the stylus and screen for working with the LG Viewty's built-in digital editing software.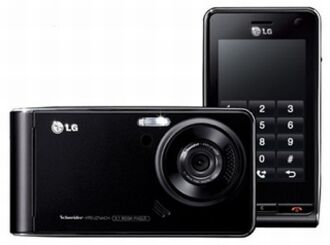 2) Mobile XD engine: The LG Viewty includes ISO 800 and SmartLight technology, so that users can create bright features in indoor as well as in night. With the LG Viewty's large full-color touch screen and Mobile XD engine, users can enjoy wide range of vivid display.
3) LG Viewty 5.1 megapixel camera phone: With the LG Viewty, you can record video at up to 120 frames per second, which is the highest frame speed ever for a handset camera. The phone is features with quick search-enabled jog wheel that allows users to quickly raise or lower volume during calls. Users can also zoom in or out while taking photos or video.
Image: Tech Shout