For Smartphone geeks globally, the two biggest draws in the preceding year were Apple's iPhone 7 and Google's Pixel. Ever since the tussle for superiority and market share ensues. The former hailed as the best Smartphone brand on the planet and Apple is keen to keep the reputation intact. Nonetheless, Google did away with its Nexus series and unleashed Pixel to change the status quo. Presently, Pixel may lag behind the iPhone in terms of sales but you cannot consider it out of the contest. The challenger scores over the reigning leader on varied accounts, few of which find mention below.
Sharper and Versatile Camera:
When it is about capturing moments, Google Pixel comes across as a sure winner. No denying the fact that iPhone's 12-megapixel camera is impressive, but Pixel has the edge with a 12.3-megapixel camera. As well, Pixel's 89 DXO Mark Mobile rating exceeds that of iPhone by several notches. The fact that Pixel carries f/2.0 lens as compared to iPhone's f/1.8 lens also offers it a competitive edge. Resultantly, you can vouch for Pixel for sharper image production in low-light environments. Unlike the Apple's offerings, Pixel is devoid of an optical image-stabilizing module. Instead, it relies on innovative software algorithms to compensate for the same.
Better screen to body ratio:
The mutual element across iPhone and Pixel is its screen size, which stands at 5.5 inches. However, if screen body ratio is the parameter, Pixel emerges as the clear favorite. Pixel has a 69.0 percent screen body ratio, which is restricted to 65.6 percent in iPhone. The gadget features a relatively smaller actual phone body around the screen and weighs around 168 grams. It implies that the device is ergonomic, compact, and convenient to hold and handle. Contrarily, iPhone is a bit leaner and weighs 188 grams approx. as numerous users will testify, Pixel's lightweight does not hamper its performance and reliability.
Free Unlimited Storage Space: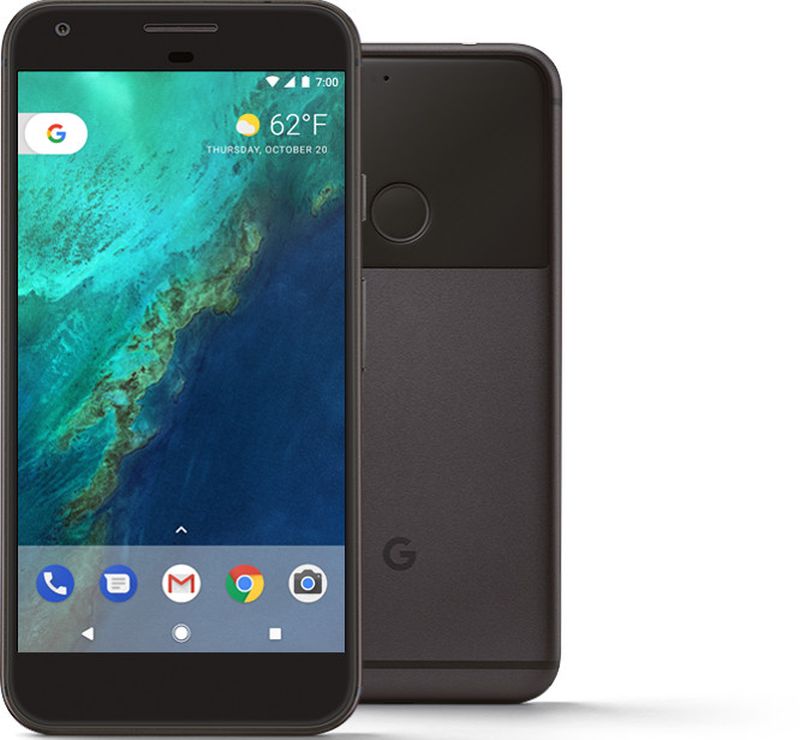 Pixel incorporates Google Photos, which is Google's patented photo sharing and storage service. Since the user is free to store any number of photos in high resolution, investing time in compressing photos is a thing of past. On the contrary, Apple offers a 5 GB storage space on iCloud with each purchase of the iPhone7. Once the stipulated storage is exhausted, you need to pay additionally for any extra storage space.
Better Display: 
The disparity in display panel quality is profoundly evident. Here too, Pixel outperforms the competitor. Pixel comes with an AMOLED display panel that offers a screen resolution of 1080 x 1920 pixels. Contrarily, Apple still prefers using time-tested backlit LCD screens. Hence, the buyer has to be content with a 750 x 1334-pixel resolution and 326 PPI pixel densities. However, the signs are that Apple is considering using AMOLED screens in its future offerings.
Lower Price:
Usually, price determines and guides purchase decisions, and Smartphones are no exception either. IPhone7 32GB and iPhone7 Plus 32GB can be yours provided you are willing to shell out $649 and $769 respectively. The other iPhone versions, including iPhone7 128GB and iPhone7 256GB are available at $749 and $849 respectively. On the other hand, Google Pixel 32 GB and Pixel 128 GB will cost $649 and $749 respectively at Google Play. That Pixel empowers you without going overboard with your expenses is an obvious inference to make.
Summary:    
No denying the fact that both Google's Pixel and Apple's iPhone have a performance record that you can trust. However, Pixel tides over the market leader when it comes to quality of display and camera, along with screen body ratio, ergonomics, and price.