With the launch of Google Pixel and iPhone7 in October 2016 and September 2016 respectively, the high-end mobile marketplace went abuzz. Attribute it to sheer curiosity or the desire to make educated decisions, Smartphone enthusiasts' scurried web pages to compare the year's two biggest launches. If you too are one of the lot but with limited appetite for technical specifications, then the article is for you. Here, we discuss and compare both the phones on key parameters that drive purchase decisions.
Design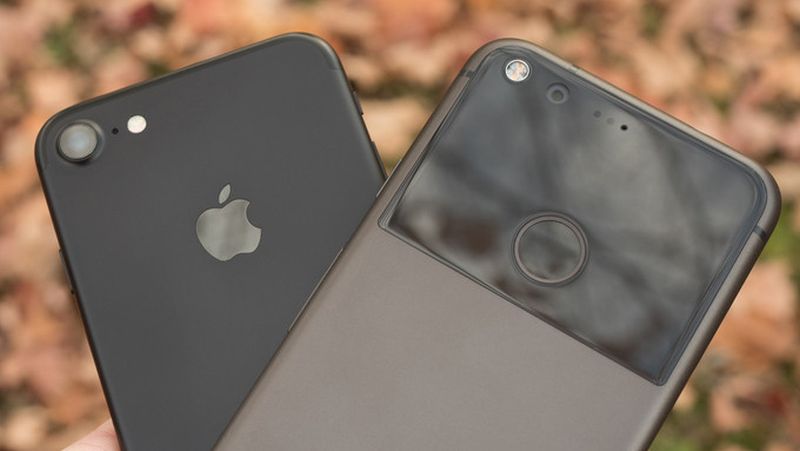 Image source: phonearena.com
Apple and Google are both aware of buyers' diverse design aspirations. This speaks for the multiple size options that Google Pixel and iPhone7 comes in. The former flaunts a 5.0-inch screen while the latter comes with a screen size of 4.7-inch. The weight is not much a disparity. Google Pixel weighs approximately 143 g, while iPhone7 is 138 g in weight. Additionally, Google Pixel's screen to body ratio is 69.0 percent, while that of iPhone7 is 65.6 percent.
If you are looking for a Smartphone that can endure water and dust, then Google Pixel is for you. Equipped with IP67 certification, it offers better resistance to water splashes, moderate rain and dust. Contrarily, iPhone7 does not have any such specifications, except that it is water resistant up to 1 meter.
Nonetheless, iPhone7 tides over its competitor in terms of look and appeal. Apple's latest offering manifests the company's passion for refined hardware design. Contrary to Google Pixel, iPhone7 is compact, solid and sleek, which makes it all the more appealing. However, there are design similarities, including a convenient grip that makes for better handling.
Display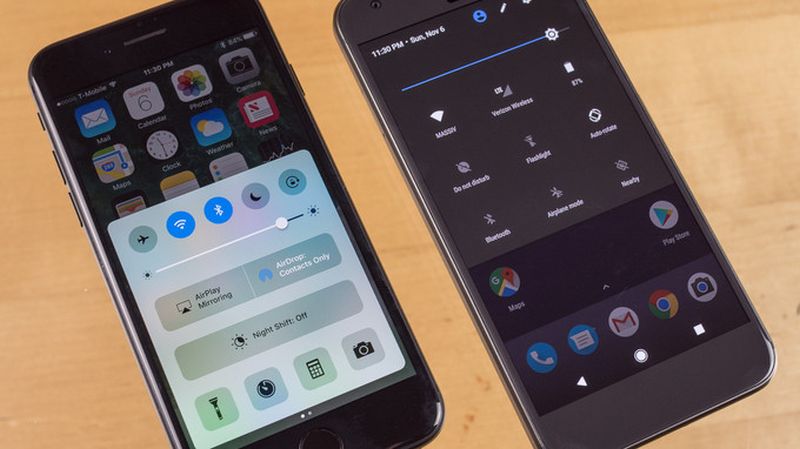 Image source: phonearena.com
Apple may be considering AMOLED panels for its forthcoming offerings, but for iPhone7 it stuck to the tried and tested backlit LCD screens. On the contrary, Google preferred AMOLED display panel for Pixel. This speaks for the disparity in their screen resolutions. Google Pixel offers screen resolution of 1080 x 1920 pixels with the pixel density being 441 PPI. In case of iPhone7, the resolution is 750 x 1334 pixels and pixel density is 326 PPI.
The display of the devices resemble in more ways than one. Both incorporate capacitive touch screen with 16M colors and come equipped with Multi touch feature. However, iPhone7 supersedes Google Pixel in terms of protection. The former comes with Ion-strengthened glass with oleo phobic coating, along with wide color gamut display. Furthermore, Apple has reinforced the device with additional protection features like 3D Touch display, home button and Display Zoom. If you prefer Google Pixel, the only protection you end up getting is in form of Corning Gorilla Glass 4.
Price
Price is one of the prime factors that determine purchase decisions for most of the population. You need to shell out $649 and $769Rs for a purchase of iPhone7 32GB and iPhone7 Plus 32GB. The other versions – iPhone7 128GB and iPhone7 256GB are available at $749 and $849 respectively.
Google Pixel is relatively easier on the pocket. If you prefer buying Google Pixel 32GB from Google Play, you need to pay $649, while 128GB Pixel model will cost you $749 at the same destination.
Other specifications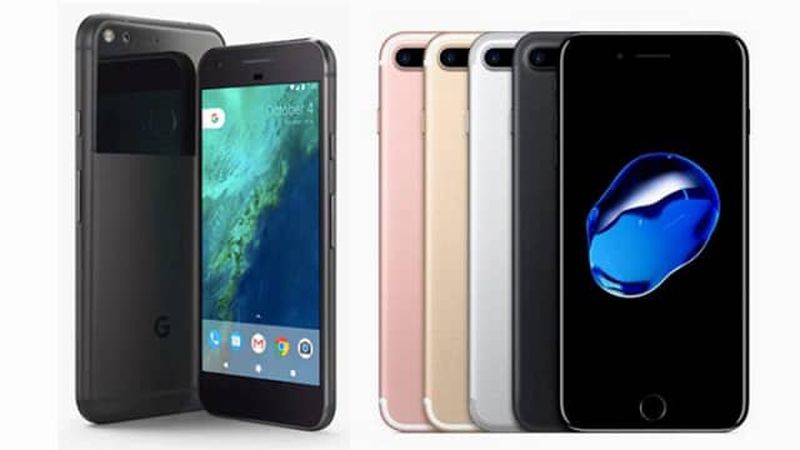 Image source: in.pcmag.com
Google Pixel draws upon 1.6GHz quad-core Qualcomm Snapdragon 821 processor to deliver cutting edge results. On the other hand, iPhone7 relies on a quad-core Apple A10 Fusion processor to ensure equally reliable and prompt processing. However, RAM is the major differentiator here. The former comes with 4GB RAM, while the latter incorporates 2GB of RAM. Both of them do not allow for expansion of internal storage, accept single GSM SIMs and are responsive to all connectivity options available currently.
IPhone7 and Google Pixel are the two biggest draws in the current year. Equipped with top notch features, each of them is vying for buyers' attention globally.