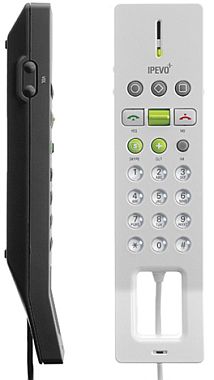 Here is some good news for Mac users. IPEVO has just launched three Mac compatible Skype phones. They are Free1 USB phone, Free2 USB phone and TRIO three-in-one device. The common feature in all the phones is Mac OSX 10.4 compatibility.
Free1 USB Phone is a sleek device with compact design. The striking features of Free1 USB are integrated Skype interface, excellent voice quality, echo cancellation, and SkypeOut call. It is compatible with Windows as well as Mac. The price of the device is just $29.99.
Free2 USB phone is also a Mac and PC compatible phone. The important features include LCD display, one touch call recording, free recording software for audio file, enriched voice quality, echo cancellation. It is available in both white and black colors. Its price is nearly $45.
TRIO is compact speakerphone. It supports conferencing up to four persons. It possess the features already stated in the above two phones. The price of TRIO is $79.99.
Via: Macnn