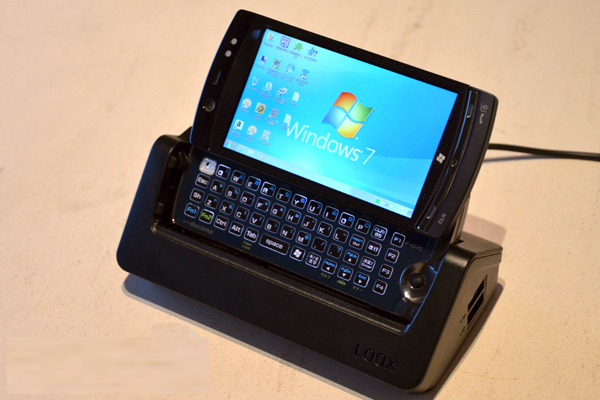 Fujitsu has brought dual boot technology to mobile phones which is apparently a leap in the very competitive mobile phone market with every manufacturer coming up with new and faster mobile phones. This innovative phone has features that will blow your mind away. Let's take a quick look at what it has in store to amaze you.
1. Dual booting smartphone
Dual operating system is something that is completely new to mobile phones. Just a click of the button and you smoothly slide over to the other OS. The Fujitsu LOOX F-07C has Windows 7 and the Symbian operating system. Also it is a very smooth transition from one OS to the other without the need to restart the phone. This dual OS is well supported by the hardware underneath and both the OS work smoothly and are nicely backed by the battery standby time.
2. The first phone with Intel Atom
The Intel atom processor with 1.2Ghz speed is among the fastest processors that are available today. This is the first time an Intel Atom processor is being used in mobile phones. The usage of an atom processor will take mobile computing to a completely different level and ups the competition for other mobile manufacturers.
3. 4-inch LCD screen with a resolution of 600 x 1024
The Fujitsu LOOX F-07C has a large 4″ touch screen display. A gorgeous screen resolution of 600 x 1024 which has 297 PPI (pixels per inch) is a treat to the eye when you play your media files. Although the phone doesn't have a 3.5 mm jack for headphones, but it makes up by providing an adapter in the box for USB to 3.5 mm jack. So this makes the phone high on the entertainment quotient. And you can carry your entertainment in your pocket wherever you go.
4. 5-megapixel CMOS snapper, while on the front there is a VGA camera

The camera of this phone is another aspect worth a mention. The phone sports a 5.1 megapixel camera on the back which captures some high resolution photos. The videos are captured in a 640 x 480 resolution. The phone also has a front-facing VGA camera for video calling in 3G. The 5.1 MP camera is a great addition to this device making it portable, to capture those best moments of your life.
5. Optional USB/HDMI cradle
Probably the best thing about the Fujitsu LOOX F-07C is the cradle built for it. This cradle has two USB ports and a HDMi port. Add a mouse and keyboard and connect it to a monitor via the HDMI port and you have got yourself a fully functional computer with 32 GB inbuilt memory and 2 GB RAM. Directx 9.0 is supported for the gaming freak in you. The games like doom, need for speed, counter strike, etc., are proficiently handled by the phone.
6. 350 hours standby in phone mode, 1.6 to 2 hours in Windows 7 mode
After having a look at all those above features, you must be wondering about the battery back up. Hold your breath as the Fujitsu LOOX F-07C comes with an enormous battery life of 14 days on standby. When the battery level is low, the phone automatically shifts to Symbian mode to save some more battery for you. Symbian is famous for its battery friendly interface. There is very low consumption of battery when the phone is in Symbian mode.
7. Multimedia in Symbian
The battery friendly Symbian is a great OS for multimedia and entertainment and as mentioned before the 600 x 1024 screen resolution make your music videos and MP3 music a treat for your eyes. Also there is pinch to zoom for your photos that you would have captured from the 5.1 megapixel camera.
Not just under the hood, Fujitsu also has the phone beautifully crafted. Slide down and you will find a lovely QWERTY keypad brightly lit up and with a nice little trackball on the right side. and a right click mouse key on the left end. Fujitsu has done away with the scroll key for the good and instead uses the new trackball technology which is comparatively much faster.
There is 3G connectivity on the phone which can be used alternatively with wi fi and when in Symbian mode you also have Bluetooth connectivity. This makes file transfers from other devices much easier and with the 1.2 Ghz processor within, browsing is a much better experience on the device. the device uses IEE802.11b/g/n for wi fi.
The developers at Fujitsu have come up with a masterpiece which is beautiful to look at, although it weighs around 218 gms. The phone not only looks good but has great functioning. The only question is that why they decided to call it a mobile phone when they could have easily called it a palm top computer?